Emergency HVAC Services in Las Vegas, Nevada & Salt Lake City, Utah
---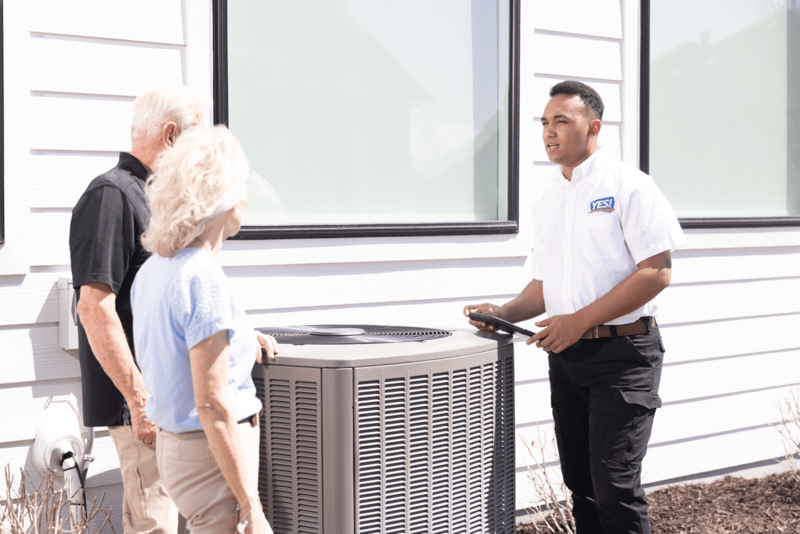 Yes! is always available to help you cool off, especially when you need it most. Our 24/7 emergency air conditioning services in Las Vegas, Nevada and Salt Lake City, Utah, ensure that you'll always have a team of professionals ready to get your cooling unit running like new again.
As one of the top AC Repair companies, we offer a 100% satisfaction guarantee. That means we're ready to help you meet your AC needs quickly. And we know how important it is to provide top-quality service in the event of an emergency.
In addition to emergency air conditioning repairs, we provide AC installation, routine maintenance, diagnosis, minor repairs, and replacement services. Discover why Yes! is the go-to 24/7 AC repair company in Utah and Nevada
Discerning Between Emergency AC Service & Scheduled Maintenance
Thankfully, not every AC problem is an emergency. We're happy to assist you in sorting out any common maintenance issues from significant AC emergency services.
Here's how to tell whether your air conditioner will be OK until your next scheduled maintenance appointment or if it requires emergency AC repair.
Bad Odor
Your air conditioning unit shouldn't produce any foul odors. So you'll want to be cognizant of any abnormal smells. For example, a soft, musty smell indicates the need for a scheduled air conditioning maintenance session. However, there are three scents in particular that are signs of a significant cooling system problem.
Burning Odors: This scent indicates that your AC unit might pose a danger to you and your loved ones. For example, a burning smell could be the result of overheating, and therefore, it poses a fire risk. If this situation occurs, turn off your AC unit, and call our 24/7 emergency AC repair experts.
Sweet Odors: This smell certainly sounds pleasant, but it actually means that your unit might require emergency AC service. Why? Sweet aromas are characteristic of refrigerant gasses due to refrigerant leaking into the air conditioner's ventilation system. Inhaling these gasses could cause serious harm to your lungs and might cause allergic reactions.
Rotten Odors: Homes with a natural gas connection may develop a sulfurous odor that smells similar to rotten eggs. This unmistakable signal means that the gas leaked into the AC ventilation. And while it goes without saying that the unit will need to be repaired, it also poses life-threatening health risks. If you notice a putrid smell, turn off your AC, exit your home, and call us immediately. Our 24/7 emergency AC repair team will fix the issue so that you can rest easy again.
Weak Airflow
Several issues could result in your air conditioning system delivering a weak airflow. However, not all the causes pose a significant threat. For example, you may just need to change your air filter to resolve the problem. Of course, we would be happy to do it for you during your next scheduled maintenance visit if you prefer.
However, you may need to contact our 24-hour emergency air conditioning repair team If your cooling system's airflow doesn't improve after you've changed the filter. The risks of a weak or nonexistent airflow are exceptionally high if you have any elderly or high-risk people living in your home, as they may be disproportionately affected by the heat.
Electrical Problems
Heating and cooling problems aren't always associated with HVAC systems. Sometimes, electrical components will affect the performance of an air conditioning system. This issue could cause the AC unit to work only sporadically.
It's possible to resolve electrical issues easily by replacing a fuse or resetting the circuit breaker. But that won't always do the trick, and significant electrical problems are potential fire hazards.
At Yes! we provide professional electrical services in addition to our 24/7 emergency AC repair offerings in Las Vegas and Salt Lake City. That means our full-service team will identify the problem that's causing your air condition system to malfunction. Then, our expert technicians will provide a long-term solution to the root cause.
If you are experiencing any AC issue which needs urgent attention, call Yes! Now at 844-216-9300 and speak with a technician for emergency service. 
For less crucial services, you can schedule a service appointment today and one of our expert team members will be able to assist you. 
FAQ
How quickly can a 24-hour AC technician get here?
One of our air conditioning experts will arrive to fix your emergency cooling problem as quickly as possible. Call Yes! At 844-216-9300 to get immediate relief from the heat.
Does your emergency AC repair team available on holidays?
Yes. We always have professional technicians on standby to assist Utah and Nevada residents with emergency AC services. That means you can call us 24/7, even during the holidays, if you're experiencing a significant cooling system problem.
Do you offer financing options?
Yes! You can learn more about all our assistance options by checking out our financing page. Please call our office to speak with one of our finance professionals if you have any further questions.