Air Duct Repair & Replace in Las Vegas, NV & SLC, UT
---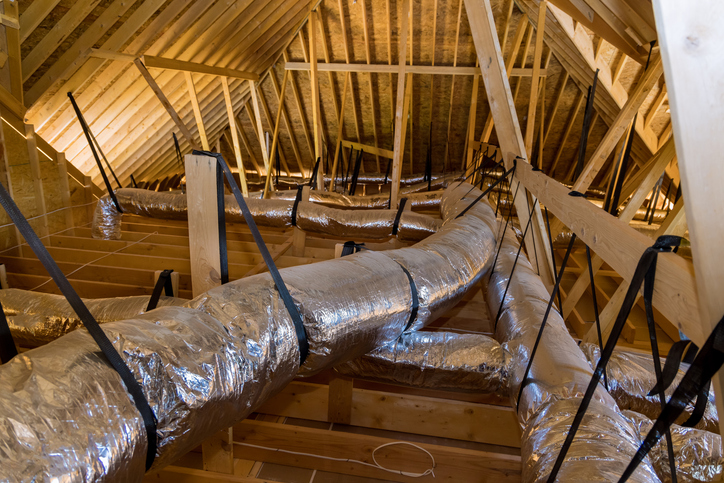 Utah's hot summers and cold winters require every home to have a functional HVAC system. Unfortunately, people often overlook the HVAC's ductwork, as it's usually hidden behind walls and vents out of sight. However, this crucial part of your heating and cooling system significantly impacts your home's comfort, air quality, and energy efficiency.
Your ductwork distributes hot and cold air throughout your home, ensuring comfortable temperatures all year. Yes! can handle your ductwork installation in Utah, whether an entirely new system or a modification to an existing one. A duct installation is beneficial for your home if you are: 
Replacing old ductwork 
Installing a new HVAC system
Renovating or remodeling your home 
Replacing a poorly fitted or installed ductwork 
No matter the scale of the project, we aim to provide you with the best service possible and take the stress out of any duct installation project. Expect us to:
Arrive at appointments on time 
Perform high-quality work
Respond quickly to requests
Provide flexible availability 
Offer great customer service
What Are The Signs That You Need Ductwork Repair?
Here are some of the telltale signs that your HVAC system needs ductwork repair from Yes!: 
Rising Utility Bills: Air escaping your ducts negatively impacts your system's energy efficiency, translating to spiking utility bills. 
Uneven Heating and Cooling: Faulty ductwork can't properly send air into each area of your home, resulting in uneven temperatures and reduced comfort. 
Unusually Dusty Home: Holes and leaks in your ductwork allow dust from outside to enter your system and disperse throughout your home. 
Smelling Mold & Mildew: Uneven temperatures caused by poorly-insulated or connected ducts promote mold and mildew growth. 
Pest Problems: Bugs, rodents, and other pests can enter damaged ductwork, establish their colonies and cause blockages over the long haul.
Poor Indoor Air Quality: Leaky ducts allow allergens to enter your home and aggravate family members' respiratory problems. 
We employ specialized equipment to pinpoint leaks or clogs in your system. You can count on our expert technicians to fix issues promptly. 
Why Choose Yes! For HVAC Ductwork Installation & Repairs 
As a locally owned and operated business, we understand how critical it is to have a functional HVAC system in Utah. Our work reflects years of industry experience and dedication to customer satisfaction. When you team up with Yes!, you're working with a company that has: 
NATE-certified technicians
BBB accreditation
EPA certification
Extended parts and labor warranties
Emergency maintenance AC service
We also offer an exclusive membership program with a wide range of benefits, including priority service, discounts, and work guarantees. 
Schedule A Ductwork Installation with Yes!
When needing HVAC ductwork installation or repairs in Utah or Nevada, trust Yes! for quality work and reliable customer service. To reach us, call 844-216-9300 .