Heating Services in Las Vegas, NV and Salt Lake City, UT
---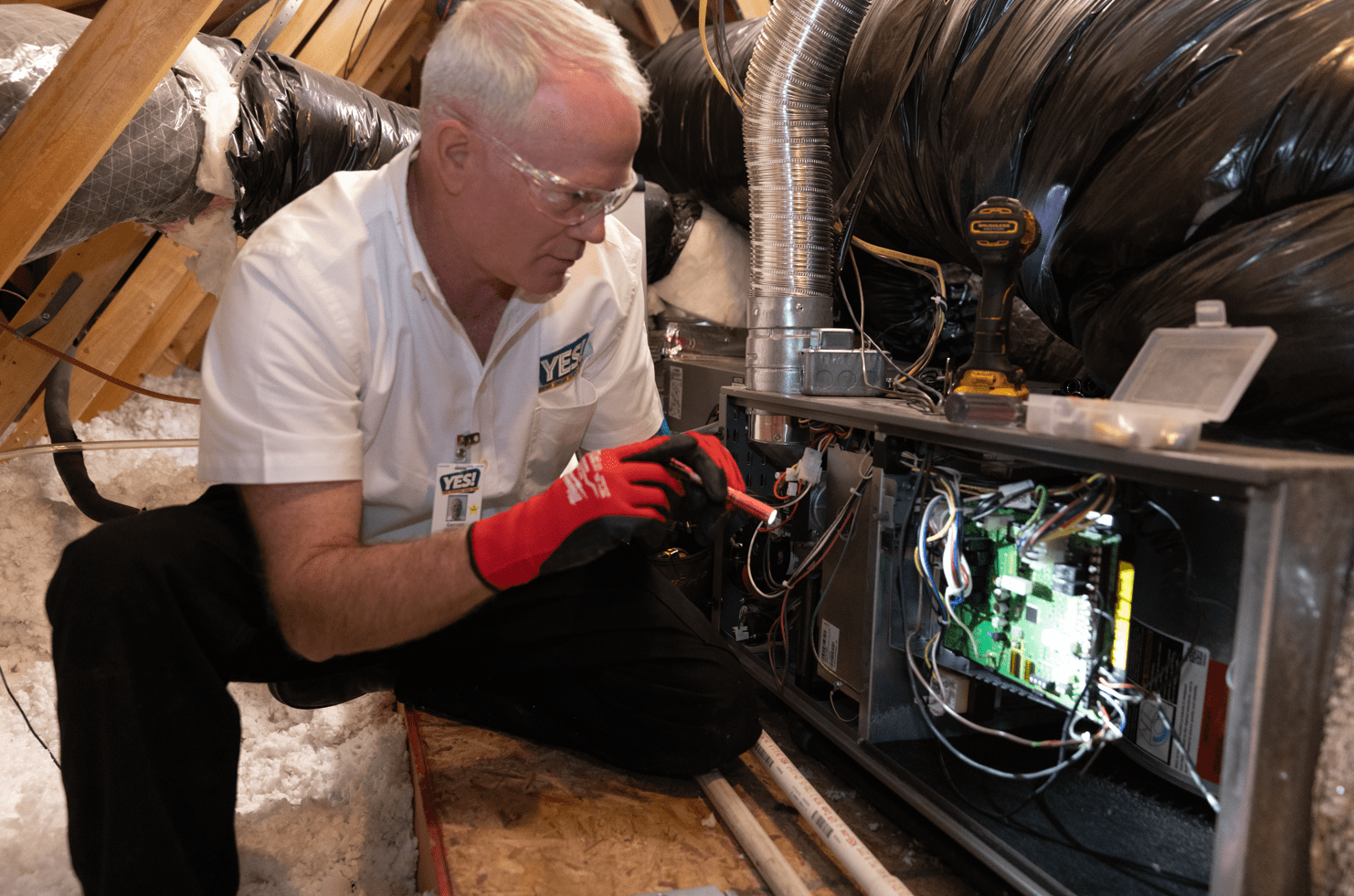 Experiencing an issue with your heating system is frustrating and potentially dangerous. That's why you need expert heating services from your  residential heater repair company that won't leave you out in the cold.
At Yes!, it's our top priority to ensure your heating and cooling systems maintain peak performance. That's especially true when Las Vegas or Salt Lake City is experiencing its most extreme winter weather.
Get Heating Services 
Our certified, expert heating technicians are committed to delivering top-notch maintenance to give you the best return from your heating system. Our services include everything from installation to repairs. And we're here to provide the routine maintenance that'll help you avoid costly replacement and repair services down the road.
Heating Services in Utah and Nevada
If winter's chill has followed you into your home, there's a good chance your furnace isn't doing its job properly. The air inside your home should hug you with warmth when you walk through the door, not chill you to the bone. 
A properly functioning furnace prompted good indoor air quality which is essential for keeping your family, friends, and guests warm and comfortable throughout the day. If your furnace is not performing well, we can help provide a long-lasting solution.
Get Heating Services
Not sure whether a furnace, central heating system, or heat pump is best for your home? Don't fret; our residential heating experts will analyze the specifications of your home and find the perfect match. We can have your furnace installed in a timely manner so you can always provide your family with total warmth.
Replacing a furnace or heater is rarely a DIY job. That's why you should trust the experts at Yes! to do the job correctly the first time. All our work is licensed, bonded, and insured; so you can have peace of mind that your heating system is in the right hands.
Furnaces are delicate machines that need regular maintenance. When you choose to work with us, we'll ensure that your furnace is ready for Salt Lake City's harsh winter months. This service will help improve your furnace's longevity and help you save money on heating costs in the winter.
At Yes! we offer furnace tune-ups that include full-service inspections. Our one-hour maintenance includes a complete tune-up, adjustment, and safety inspection of your heating systems.
It is our goal to be your No. 1 heat repair company. We aim to lower your energy costs, improve your home's comfort, ensure safe heating operation, and even extend your furnace's life!
Call for Heating Services!
Additional Heating Services 
Ductwork Installation
Don't trust your ductwork to just anyone! 
As the main passageway through which your heating and air conditioning system delivers and removes air, your ductwork is one of the most important features in maintaining comfortable temperature and air quality. 
If your ductwork isn't properly installed, your heating and air conditioning system cannot run efficiently. You could end up losing as much as 30 percent of the air—meaning higher utility bills.
Our dependable, highly-trained technicians will make sure your ductwork is installed professionally and properly, ensuring a comfortable home.
Emergency Heating Services
It's worrisome to think that your house could experience a heating emergency in the dead of winter. That's why we strive to maintain close ties to our clients, and we're always ready to assist them in their time of need. Whether your heating system breaks down on a holiday or over the weekend, just give our Salt Lake City residential heating service company a call. Our technicians are available to perform repairs 24/7 so that you can remain comfortable in your home.
GET EMERGENCY HEATING SERVICES 
What Makes Our Residential Heating Services Stand Out?
There are dozens of different residential heating and cooling companies in Las Vegas, NV and Salt Lake City, UT. The problem is finding the right company that will value your time and investment. At Yes! we strive to go above and beyond for our customers. 
In fact, we believe in our heating service so much that we're willing to stand by our work with a 100% satisfaction guarantee. This commitment means we will continue working until you're completely satisfied with our services. 
At Yes! we're also committed to staying on the cutting edge of HVAC technology. That's why our residential heating technicians in Utah and Nevada attend regular training to hone their skills and deliver remarkable services to our clients.
Get Heating Services 
Let Us Help
If you are having problems with your heating systems, don't put it off. Contact us today and let us help.
Frequently Asked Questions
How much do Salt Lake City residential heater repairs cost?
The cost for residential heater and furnace repairs in Utah and Nevada varies based on the scope of the job. Minor fixes won't set you back very much, but significant repairs could cost hundreds or more. At Yes, we always provide our customers in Utah and Nevada with a fair price for our residential heating services. And if you do happen to face an expensive repair or replacement service, we provide financing options to assist you.
Are you properly licensed and insured?
Yes. We hold insurance to protect you, your property, and our employees in the case of any accidental damage. In addition, all our technicians carry the proper certifications to perform residential heating services in Utah and Nevada.
How long do residential heating systems last?
Residential heaters and furnaces can run properly for 15-20 years. However, the lifespan of your heating system will depend on the level of maintenance it receives. Schedule pre-season tune-ups every fall will help you get the most out of your heater.