Furnace Replacement in Las Vegas, Nevada & Salt Lake City, Utah
---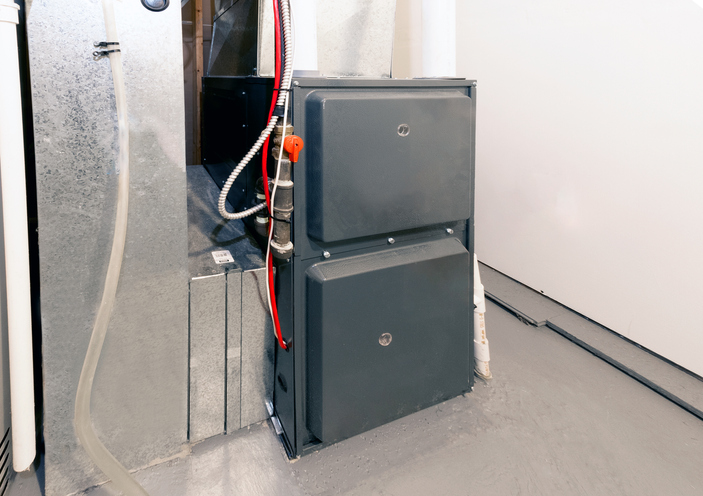 How often do you think about your home's heating system? Most of us don't give the furnace a second thought until something starts to go wrong. By that point, a broken furnace can plummet your home into freezing temperatures—and require a large, unplanned expense.
Fortunately, there are usually subtle signs that a furnace replacement or repair is necessary before it goes out completely. For example, your utility bill may steadily increase, or your heating system may begin to struggle to keep up with the weather outside.
Discovering whether you need a new furnace will help you avoid disaster later. We are here to help you determine if it's time for a repair or replacement and explore the benefits of working with Yes! for your home's heating system.
Is It Time For A Furnace Replacement?
Don't wait to look into replacement or repair services until your furnace goes out completely. Rather than frantically searching for a furnace replacement near you when disaster strikes, let's go over the tell-tale signs that it's time to take action: 
Your furnace is old: A good furnace will last a long time, but it can't last forever. The average age of a furnace is between 15 and 20 years. You can check the age of your furnace by looking at its attached information label. If it's older than 20 years, it's likely time to look into a furnace replacement.

Your utility bills are climbing: As your home's heating system begins to fail, your furnace will need to work harder—and run more frequently—to keep up with the weather outside. This extra work causes utility bills to slowly rise over time.

Your heating system cannot keep up: Once your furnace starts going out, it's only a matter of time before it can no longer maintain a desirable ambiance. If your heating system can't keep up with the temperatures you're setting, it's time for a new furnace.

You're hearing strange noises: Another tell-tale sign that you're due for a replacement is if you hear odd noises from your furnace. For example, you may hear buzzing, humming, pops, bangs, clicking, or other unusual noises.

You're feeling ill: Unexplained illnesses and frequent flu-like symptoms are potentially life-threatening signs of a bad furnace. You should get your furnace looked at immediately. If a gas heater develops poor ventilation, it can begin to leak deadly carbon monoxide. We recommend a working carbon monoxide detector in your home.  
What Are The Benefits of Upgrading My Heating System?
Upgrading your heating system can bring numerous benefits to your home and can be a cost-effective investment. Some of the benefits include:
Improved Energy Efficiency: Newer heating systems are more energy-efficient, meaning you can save money on your energy bills.
Enhanced Comfort: Upgraded heating systems provide more consistent heating, reducing temperature fluctuations and hot and cold spots.
Increased Reliability: Modern heating systems are more reliable and have fewer breakdowns, reducing the need for costly repairs.
Improved Indoor Air Quality: Advanced heating systems come with air filtration and ventilation options that can improve indoor air quality.
Longer Lifespan: Upgraded heating systems typically last longer than older models, reducing the need for frequent replacements.
Enhanced Safety: Modern heating systems come with advanced safety features that reduce the risk of fire, carbon monoxide leaks, and other hazards.
Yes! Furnace Replacement Services in Utah and Nevada
Our furnace repair and replacement techs are well-equipped to solve even the trickiest problems with your home heating system. We provide HVAC solutions to help your heating and cooling systems run more efficiently. In addition to repairs, maintenance, and replacement, we provide air quality services such as: 
Furnaces may not last forever, but when it's time for a new furnace, Yes! is here to help. Our team has over 40 years of combined experience in the industry, and we provide cost-effective solutions, competitive rates, and our common-sense labor guarantee.
Our team of expert technicians is dedicated to providing you with the best heating replacement services in Las Vegas, Nevada & Salt Lake City, Utah. With a focus on quality workmanship, attention to detail, and using the latest industry-leading equipment, we guarantee your satisfaction and peace of mind. Trust us to keep your home warm and comfortable all year round. Contact us today to schedule your heating replacement service. 
Common Questions About Heating Replacement 
What Are The Signs That It's Time To Replace My Heater?
There are several signs to look out for. Age is a big factor, as heaters typically last between 15 and 20 years. If your heater is approaching this age range, it may be time to consider a replacement, especially if you are experiencing frequent breakdowns and repairs.
Loud noises could also indicate that parts are wearing out and that it may be time to replace your central heating system. If your heater is no longer able to keep your home warm, this is also a sign that it's time to replace it. Finally, if you notice any unusual or unpleasant odors coming from your heater, it may indicate a problem with the unit and it should be replaced.
If you're experiencing any of these issues with your heater, it's best to schedule a professional evaluation to determine the best course of action, and whether it's time to replace your central heating system. In Utah and Nevada, trust the heating installation experts at Yes!
How Long Does it Typically Take For Heater Replacement?
In Salt Lake City and Las Vegas, the length of time a heater replacement takes can vary depending on several factors, such as the size of the heating system, the location of the unit, and the availability of replacement parts. On average, a typical heater replacement takes half a day to a full day to complete.
The replacement process typically involves removing the old heater, putting in the new unit, making necessary electrical and ductwork connections, and testing the system to ensure it is functioning properly. In some cases, additional work such as upgrading ductwork or adding insulation may be required, which could extend the length of the replacement process. However, it is best to discuss the specific details of your heater replacement with our certified heating and cooling technicians who can provide a more accurate timeline for the project.
What Types of Heaters Does Yes! Install?
We provide a variety of heating solutions for homes in Utah and Nevada. We install heaters such as furnaces, heat pumps, boilers, radiant floor heating systems, and ductless mini-splits. These options can be powered by gas, oil, or electricity.
To find the best heater for your needs, it's recommended to get in touch with Yes! for more information on heater replacement. Our certified technicians will help determine the best solution based on the size of your space, climate, and budget. Get the right heater for your needs and ensure a warm and comfortable environment all year round.
Can I Get Financing For My Heater Replacement Cost?
We offer specials and different financing options for heater replacements. These options allow homeowners to enjoy the comfort and convenience of an energy-efficient home without breaking the bank.
Currently, we are offering $50 off any HVAC, Plumbing, or Electrical Repair, and new HVAC system financing with no payments and no interest for 6 months, plus many other seasonal promotions. Take advantage of these discounts while you can and lower your heater replacement cost!