Plumber in Las Vegas, Nevada and Salt Lake City, Utah
---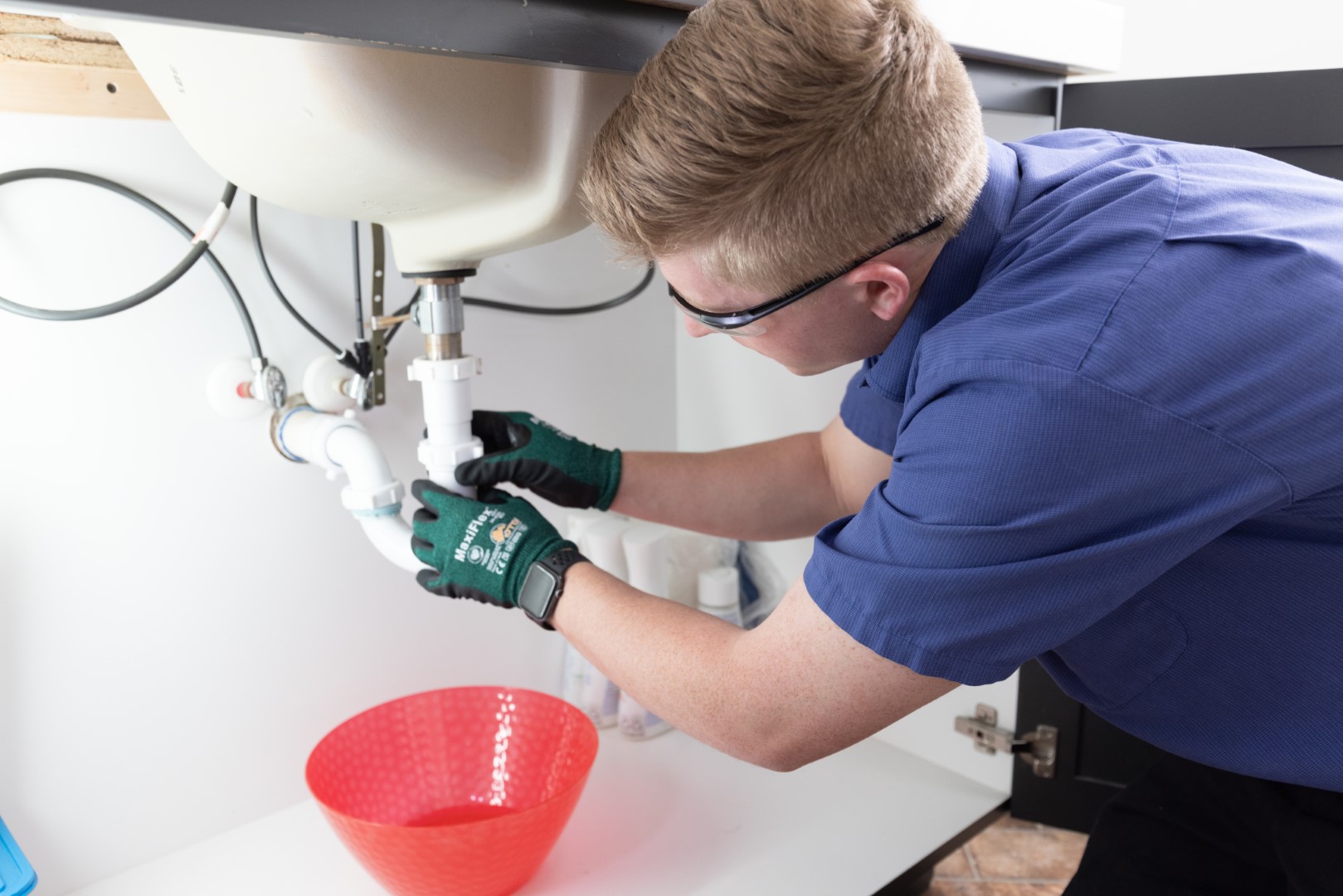 Repairing Your Residential Plumbing System in Las Vegas and Salt Lake City
The plumbing system in any home can be very sensitive and requires frequent maintenance and service to keep it working properly. If you experience the need for repair, reach out to the plumbers at Yes! Air Conditioning and Plumbing. With 45 years of plumbing experience, we can handle nearly any plumbing problem you have.
Whether you've got a leaking faucet, a failed water heater, or a leaking toilet, you simply don't have the luxury of calling up dozens of plumbing experts to obtain a competitive quote. Plumbing emergencies call for plumbing experts who won't waste your time, overprice their services, or try to sell you repairs you simply don't need. That's why the only Las Vegas and Salt Lake CIty plumbers you should trust are the ones that work for Yes!
Yes! offers professional, high-quality plumbing services to customers in Utah and Nevada. During every service call, a Yes! plumber performs a thorough and accurate inspection and provides a transparent quote, outlining the cost of repairs and parts. Our plumbers are trained to answer all customer questions and concerns courteously and professionally. Each plumber is required to pass a drug test and background check, offering our customers peace of mind knowing they are in good hands
You can count on our team of expert plumbers to provide you with quality work, from installation and service, to upgrades for your kitchen and bathroom.
We provide the following plumbing services:
Even the best cleaning regimen can lead to clogs in the drain, with the hair, dirt and oils that get sent down the pipes. Professional drain line cleaning service is an excellent solution.
If your water heater isn't keeping up with your home's demands for hot water, you need a solution. You can call our team to take care of this delicate equipment.
Your home relies on a sewer line to drain wastewater to the local sewer system. When you need to repair, replace or install a new sewer line, you can count on us to provide excellent work.
A kitchen garbage disposal is an indispensable tool for breaking up food before it turns into clogs. If yours isn't working, call on us to identify the problem and fix it.
Pipes break for various reasons, including tree roots and freezing water. Call on our team for prompt residential plumbing repair.
A leak in your plumbing system can lead to low water pressure and water damage. Our leak repair service uses advanced techniques and tools to find the source and fix it.
Water quality in your home is a matter of health and comfort. If your home's water simply does not meet your expectations, you should consider installing a water purification system. We install the top products to give you water that is clean.
To schedule an appointment with our expert plumbers, call us today at 844-216-9300
When to Call for Plumbing Service
When your plumbing isn't working, your entire household might come crashing to a halt. The good news is that your plumbing has a number of signs you can watch for, so you can address potential issues before they become a disaster. Here are a few instances in which you should consider calling an emergency plumber:
Persistent clogs: Occasional clogs are expected. If your toilet or bathtub won't drain no how matter how much you plunge it, it's time to call our plumbers to clean the drain line.

Low water pressure: Water pressure that doesn't flow like normal is a sign of a problem in the line, such as a leaky pipe. You should call our plumbing services to find the problem and determine the best solution.

Faucet leaks: Dripping faucets can waste thousands of gallons per year, even if they only drip a little. It's better to call our plumbers to fix or replace the faucet.

Frozen pipes: A frozen pipe can stop the water flowing, or even burst and create water damage. You need a prompt solution from our expert team.
Other warning signs that plumbing repair might be in your immediate future include:
Gurgling sounds
Frozen pipes
Water that isn't warm or hot enough
Drips
Strange odors, including a sulfur smell
Even if you aren't sure whether you need repair or plumbing installation service, it's best to contact us.
For emergency plumbing services, call us today at 844-216-9300
Do We Offer Same Day Services? Yes!
Just one more reason calling Yes! is that we offer same day plumbing service and our emergency plumbing services are available 24/7. So, if you're experiencing a water leak or a gas line problem, our experts will provide total peace of mind by arriving the same day and fixing those pipes.
It's never wise to take chances with your plumbing if you start experiencing any of the above issues.. Regardless of your issue, you can rely on our 100 percent money-back satisfaction guarantee and our qualified techs to help. We always stand by our work so you are absolutely pleased with the results. Contact us today for any questions about our plumbing repair services!
Frequently asked questions
What are the main components of a plumbing system?
A plumbing system is responsible for bringing water into a home or building, taking waste and sewage away, and preventing water damage. The main components are:
Pipes, which carry water, waste, and gas throughout the building.
Fixtures, including devices like toilets, sinks, and showers.
Valves to control the flow of water.
Water heater, which heats up water for use in the building.
Backflow prevention device, used to stop contaminated water from flowing back into the clean water supply.
Drain and sewer lines to carry wastewater to the main sewer line and public sewage system or septic tank.
A Septic tank, which is used in areas without public sewage systems.
All these components work together to make sure the plumbing system is reliable and safe. Our residential and commercial plumbing techs can assist you in servicing, repairing, or replacing any of your plumbing system's components.
How do I know if I need a plumber?
Whether you're a homeowner or business owner, sometimes problems arise and you'll need to call a plumbing company.
If you are in the Salt Lake City or Las Vegas area, we highly recommend reaching out to a professional if any of the following plumbing issues occur:
Clogged sink or toilet
Low or no water pressure
Sewage odor anywhere in the home
Burst pipes
Unusual noises, including gurgling sounds
Dripping faucets
Water damage
Overflowing toilet
Remember, it's always best to consult a professional if you're not sure. Our plumbers are skilled in assessing any type of problem and are available 24/7 for plumbing emergencies. If you have plumbing issues, call us today!
Can I fix plumbing problems myself?
Most plumbing issues are best left to plumbing services professionals. Attempting to do your own repair can lead to serious risks, spanning from water damage to damaged or burst pipes, and even exposure to harmful bacteria in contaminated water.
At Yes! we've been in business for over 45 years and understand our customers' needs. A plumber with service experience can diagnose problems quickly and provide a lasting solution. We're available 24/7, so if you have a concern, call today!
What questions should I ask when hiring a plumber?
We know how important it is to find a company you can trust. When hiring a plumber, consider asking the following questions:
Are you licensed and insured?
Do you have experience doing the type of plumbing work I need to be done?
Can you provide references or reviews?
Are there any potential additional costs or fees that I should be aware of?
Do you offer guarantees or warranties for your work?
At Yes! our service professionals are highly trained, licensed, insured, and have passed thorough background checks. We offer a 100% satisfaction guarantee and have a true transparency pricing model so there are never hidden costs or fees.
We're also proud to have hundreds of outstanding reviews online and a 5-Star rating on Home Advisor. Our plumbing contractors in Salt Lake City and Las Vegas are simply the best, and are on hand 24 hours a day, 7 days a week to assist you with all of your plumbing service needs!
What should I do if my toilet is overflowing?
If your toilet is overflowing, you're not alone! This is a common plumbing problem.
First, turn off the water supply. You can find the valve behind the toilet and turn it clockwise to stop the flow of water. Use a bucket or mop to clean up any water that may have overflowed onto the floor.
Next, try using a plunger to clear the blockage. One important thing to keep in mind – with the drain fully covered by the base of the plunger to create suction, pull backward. You want to pull the blockage out, not force it down the pipe.
If you are not able to clear the blockage, it's best to call in a professional. Also, avoid using liquid drain cleaners as they can cause serious damage to your pipes and contain toxic chemicals. Our plumbers have the tools and experience to get your toilet working again in no time!