Furnace Repair Service in Las Vegas, Nevada & Salt Lake City, Utah
---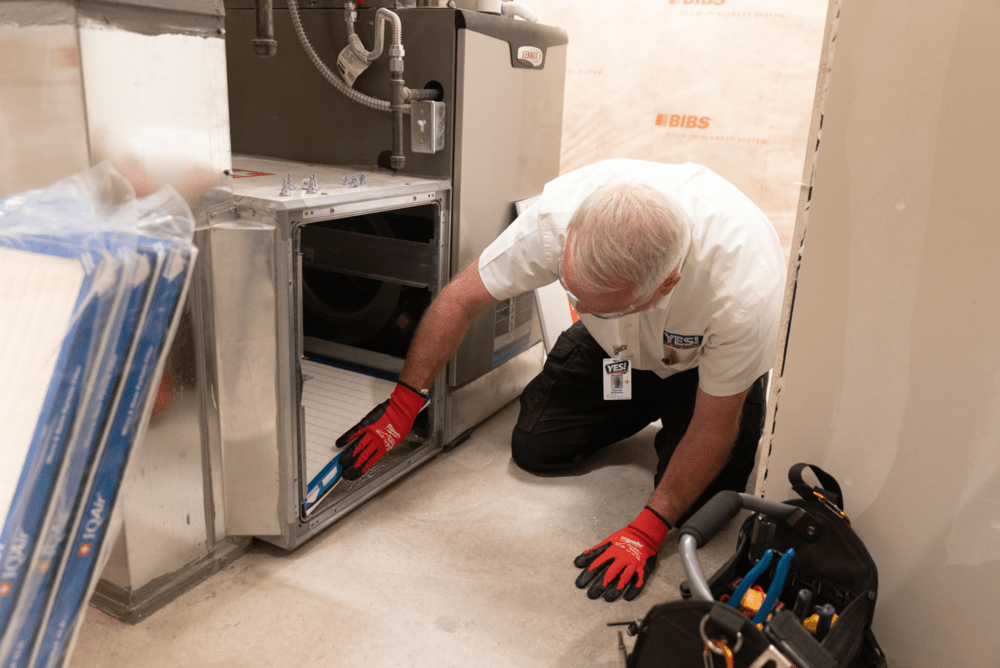 When those brutal Utah and Nevada winters hit, they can really send shivers up and down your spine. And there is nothing more upsetting than a chilly house in the dead of winter. Because once you're chilled to the bone, all you can really think about is getting warm again, right? The best time to get your furnace repaired is before you can feel the bitter cold of winter. Don't hesitate and get your furnace serviced by the experts at Yes!

We hope your furnace never shoots you the cold shoulder during the depth of a Salt Lake City winter. But if it does, you can always count on Absolute Air to warm you back up. If your trusty furnace starts acting up, contact us for a service. Any 24-hour furnace repair call in Utah and Nevada is one we take seriously. So we're always around when you need total warmth—even when it's an emergency heating repair call in the middle of the night.
Let's Clear the Air: Do You Need Repair?
While today's highly efficient furnaces are built well and tend to last a good 15 to 20 years, they aren't always immune to problems. So, whether you like it or not, there will most likely be a time when your home comfort is compromised and you'll need a quick furnace fix. When this happens, it's important not to put these repairs off. It's always better to nip a heating issue in the bud rather than ignore it. After all, many common furnace issues can be mended with a quick repair from Yes! If you let a heating problem fester, it will only lead to more expensive problems down the road.
Although modern heating systems guarantee you a longer life span, they can still break down. Among other things, failing to maintain your heating system properly can significantly lower its life expectancy. You might not realize how vital your heating system is until it breaks down during winter. Nonetheless, your heating system is not likely to break down abruptly. Instead, it will show some signs of being faulty. In such situations, you need a quick heating service from qualified professionals. You can always rely on Yes! for timely furnace repair. Not only do our technicians respond quickly, but our prices are quite reasonable as well.
Here are five common signs that you may need furnace repair:
Your utility bills have increased.
Your furnace is making odd noises.
Your system is not maintaining the set temperature.
You've noticed an excessive amount of dry air and dirt particles.
Your furnace is collecting cool, not warm, air.
Our proficient technicians will arrive at your home or office at the agreed-upon time to repair your heating system. You'll notice positive changes such as reduced energy bills at the end of the month. When we're finished, your furnace will work ideally, offering you the optimum comfort that you deserve. Most importantly, you and your family will be safe from the cold of the winter. We'll be happy to answer any questions you may have during the process, and always treat you and your home with total respect.
Get Your Fix On – Call Us Today!
When those bitter cold winds leave you shuddering under your covers because your furnace is on the fritz, there is no better furnace repair service in Salt Lake City abd Las Vegas areas than Yes!

We know that when your system breaks down during a cold spell, your family often starts to panic. Losing heat can be especially worrisome if you have small children or elderly parents living in your house. Well, worry no more! We do our very best to alleviate this panic and provide quick repairs and peace of mind. We take pride in going above and beyond the call of duty to be sure our customers are left satisfied—and warm. Here are just a few of the things you can expect when you call our skilled Utah and Nevada furnace repair team at Yes!
24-hour emergency service
Straight forward pricing (You'll know exactly what you'll pay before we start)
Customer convenience
Appointment confirmations and reminders
Guaranteed work with 100% satisfaction money-back guarantee
Trustworthy technicians who are certified and trained
We also offer furnace maintenance to keep your furnace running through the winter keeping you happy and warm.
Responsive Furnace Repair Services in Las Vegas & Salt Lake City
Yes! has been the go-to company for all-electric, oil, and gas furnace repairs in Las Vegas and Salt Lake City for decades. Our furnace technicians undergo extensive training and get the proper certifications to identify and quickly fix any type of furnace or furnace issue, including emergency repairs.
Our 24-hour gas, electric, and oil furnace repairs are available for any size repair, from fixing a filter or clogged line to making significant repairs to a furnace that shuts down completely. You won't need to wait around for fixes— we have the right parts and know-how to finish the job as soon as possible.
Additionally, we'll walk you through all your furnace repair options, so you're never left in the dark about what we're doing to your furnace. You'll know exactly what we're doing and why we're doing it.
Call Today for Furnace Repair
If you're experiencing hiccups in your furnace and not getting the warmth you deserve, don't suffer through ugly chills one more day. Take initiative and contact our expert furnace repair team for efficient, reliable, long-lasting furnace repair. Winter is too long to suffer in cold silence. You can reach our certified technicians by calling 844-216-9300
Furnace Repair Contractor Services - Frequently Asked Questions
What Types Of Furnaces Do We Service?
The types of furnaces we service include:
Natural gas furnace repairs

Electric furnace repairs

Oil furnace repairs

Propane furnace repairs
For whatever type of furnace, an Yes! furnace repair contractor will have your system up and running immediately.
What Should I Do If My Furnace Stops Working?
You can check a few things to determine if you need to call in a professional. You can check:
Your filters for dirt and clogs

If there is no air blowing out

If the pilot light is dim or flickering

To see if there are any cracks in the heat exchanger or damage to the blower belt
When in doubt, call a professional furnace repair contractor in Salt Lake City that you can count on.
Should I repair or replace my furnace?
There are a few factors that determine if you should repair or replace your furnace, including:
It's 15 years or older

The root cause is severe or happens frequently.

The cost of repairing the furnace is more than half the cost of replacing it

Your heating bill has drastically increased

You hear odd noises from the furnace

It begins emitting carbon monoxide

You notice that it's not heating as well as it used to
Your furnace repair contractor in Utah or Nevada will help you determine if you need a replacement or repair.
How much does furnace repair cost?
Though the price for furnace repair varies by the severity of the issue, repair costs range between $130 to $500. Your technician will be happy to answer any questions you may have and walk you through every step of the process.
How long does a new furnace last?
A new furnace, with proper upkeep, can last up to 40 years, but in most cases, furnaces last between 15 to 30 years. Minimize the number of repairs by scheduling regular maintenance to catch issues before they get out of control.