Tankless Water Heater Installation in Las Vegas, Nevada and Salt Lake City Utah
---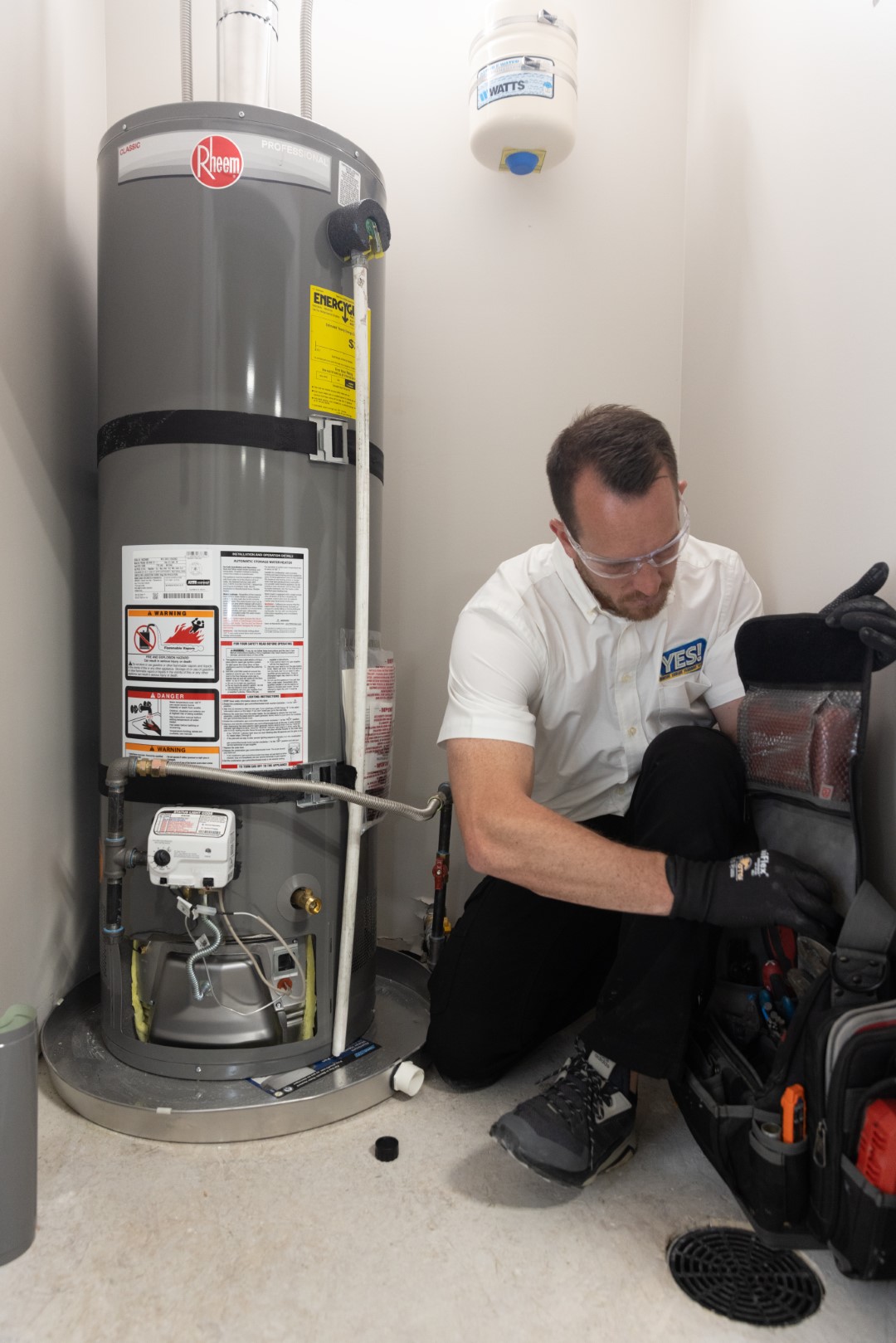 At Yes! Air Conditioning and Plumbing, we provide emergency water heater repair in Nevada and Utah, (at no additional charge) and water heater replacement. Our technicians are trained to fix nearly any water heater problem. Many water heaters, regardless of capacity, need immediate attention. Our team of plumbing experts will work efficiently so that they can get your water heater running again without any problems with our plumbing services. We're the best source for water heater repair in Las Vegas and Salt Lake City, as well as other related services.
We frequently see water heater issues that could cause the following:
Low Rumbling or Popping Noise
Inadequate Amount of Hot Water
No Hot Water
Rust-Colored Water
Rotten Egg Odor
Pilot Light Problems
High-Pitched Whining
Water Heater Leaks
We recommend giving Yes! a call as soon as you think an issue could be starting with your water heater. And don't forget to check for a money-saving water heater coupon!
Water Heater Installation in Nevada & Utah 
Is it time to consider a new hot water delivery system for your home? If so, one of our plumbing technicians can consult with you to determine which type is the best fit for you and your family. We will then dispose of your current water heater and install your new heater quickly and efficiently. We understand that our work on the installation directly affects the performance of your water heater, and we want your new heater to work properly in your home. We have experience installing many types of hot water delivery systems, including tankless water heaters along with gas and electric storage tank water heaters.
Tankless Water Heater Installation in Nevada & Utah
In most homes, the water heater has a tank that holds the water and keeps it hot. On the contrary, tankless water heaters only heat water on demand when the faucet is turned on. It heats the water as you need it, which prevents the standby heating loss that occurs when it is stored in a tank. Are you considering a tankless water heater? Call us at 844-216-9300 today!
Water Heater Challenges in Las Vegas
There are several reasons why you might need gas water heater repair in Las Vegas or Salt Lake City. First, during the summer, the hot, dry climate of both states can exact a heavy toll on your home and its equipment. Temperatures can soar well above 100 degrees during the summer, and your water heater's components experience even greater levels of wear and tear than usual. This can lead to structural damage and the loss of efficiency that could require costly repairs.
Winters in both Utah and Nevada can see temperatures below freezing, which also can wreak havoc on your water heater. The metal parts can be damaged by the cold if they are not adequately insulated, and the extra work your heater has to do to keep up with the cold can put a lot of extra strain on it. This is why it pays to have a dependable source of water heat services you can trust to take care of your equipment.