HVAC, Electric, & Plumbing Service in Nevada
---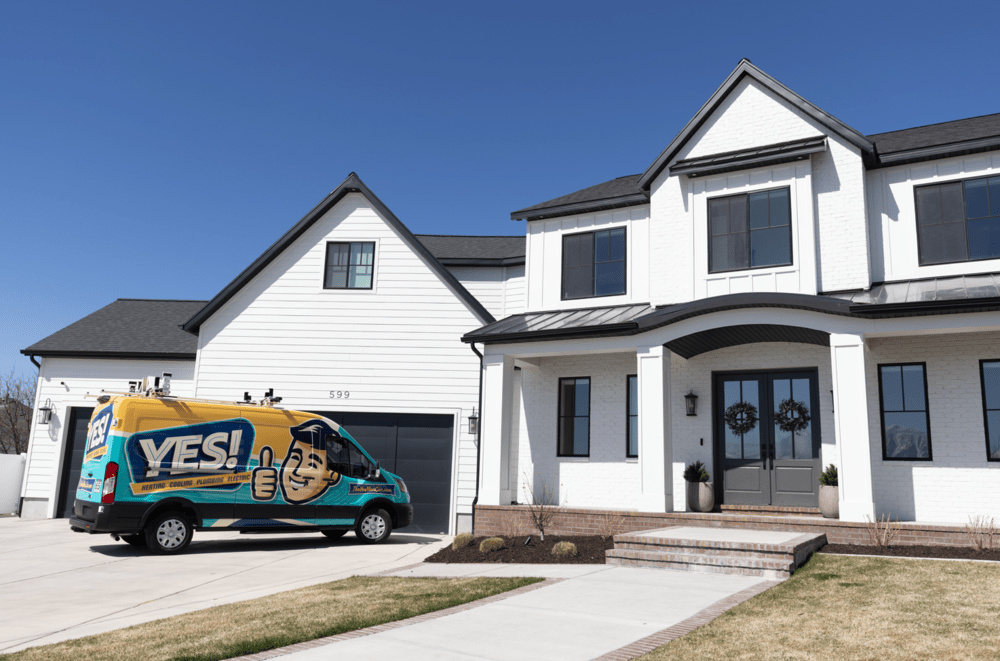 HVAC Service in Nevada:  How YES! Delivers AC Solutions
Las Vegas may be one of the world's leading entertainment cities, but that doesn't mean its temperatures are delightful. At the height of summer in July, residents can experience temperatures as high as 107 degrees Fahrenheit, with average nightly temperatures dropping just below 70 degrees.
Prioritizing your HVAC system to combat the extreme heat requires identifying any concerns before temperatures skyrocket. When a need arises, knowing where to turn for service is essential. Luckily, YES! provides affordable, reliable, and exceptional HVAC service in Nevada. Find out more about what we offer to local property owners.
Our HVAC Services
Your heating, ventilation, and air conditioning (HVAC) system is complex, with many components that keep it functioning under extreme weather conditions. Without scheduled maintenance, you risk having a broken unit, making it difficult to escape the Sin City summer heat. Fortunately, our experts are exceptional at providing quality HVAC services.
Here is a sampling of what we provide in the area.
HVAC Installation Services
Whether you're constructing a new home that needs an HVAC system or your existing unit is nearing the end of its lifespan, you can count on our team to provide HVAC installation in Nevada. Our installation services give your home higher efficiency without raising energy consumption. We'll ensure the proper setup with the right equipment, so you can enjoy higher energy output without dipping into your savings account.  
When assessing the need for replacement, we'll examine worn-out parts and evaluate the system's performance. Our goal is to keep expenses under control while ensuring that your home can remain comfortable throughout the changing seasons.
Air Conditioning Repair Services
A functioning AC unit is necessary to prevent your summer from becoming an unbearable nightmare. Regular maintenance is critical in reducing the risk of problems that can arise, disrupting the efficiency of your AC system. When you select us as your trusted HVAC repair provider, our technicians will:
Examine your refrigerant level and test for leaks
Ensure the tightness of the oil motors
Identify concerns with electric terminals
Look for any sealing duct leakage
Measure the airflow in your evaporator coils
If it's past time to replace your AC system, we'll switch out your current one with a higher-efficiency unit, with replacement service backed by our 100% satisfaction guarantee and a one-year warranty. 
Heating Repair Services
It's hard to believe you would ever need a heating system to keep your home comfortable in a city with such high summer temperatures. But come December, the outdoor temperature can drop to around 39 degrees Fahrenheit at night and peak at 58 degrees during the day. If your heating system isn't functioning as it should be, our trained technicians will properly examine it and determine the best course of action.
HVAC Maintenance Services
Keeping up with routine maintenance is the best way to prolong the lifespan of your HVAC unit while keeping it running efficiently. Our commitment to exceptional HVAC maintenance services will give you the peace of mind you deserve as a homeowner. We recommend scheduling maintenance service on your AC each spring and your heater each fall. 
Our Other Services
Yes! is proud to extend its services beyond HVAC equipment, including plumbing and electrical needs. Our additional services include the following:
Our Plumbing Services in Nevada
Common plumbing problems include clogging, lower water pressure, and faucet leaks. Failing to address these issues can cause flooding and damage to your home. For the best plumbing service in Nevada, you need trained technicians to pinpoint and solve common plumbing problems. 
Yes! can provide exceptional services that curtail these concerns and get your system functioning again. Best of all, we don't limit our services to a single area of concern. We can address the following problems:
Leak detection: We'll identify the source of your leak so your house water remains uncontaminated.
Drain cleaning: Clogged drain? No problem—we'll perform an extensive cleaning process to clear the clog and get water flowing once again.
Water Heater: Your water heater is susceptible to damage from the hot weather, so let us handle these concerns to get the system back up and running.
Garbage disposal: If your kitchen garbage disposal is jammed or shows signs of leakage, our professionals will identify the main culprit and resolve the problem.
Water purification: The quality of your water is essential to your health, so we install filtering systems that remove debris and sediment from drinking water.
Our Electrical Services in Nevada
Just as your HVAC system requires ongoing maintenance, your home's electrical system needs attention from time to time. By keeping up with electrical maintenance, you can protect your equipment, prevent electrical concerns, and become more energy-efficient. More importantly, you can minimize any hazardous problems that jeopardize your safety.
Our expert technicians offer a range of electric services in Nevada:
Generator installations
Lighting upgrades
Circuit breaker installation
Home safety inspections
Low voltage installations
AFCI breaker & fuses
Panel upgrades
Electrical inspections and maintenance 
Our Nevada Location
We operate within the greater Las Vegas area. You can find us at this location:
6275 South Pioneer Way Las Vegas, Nevada 89113    
Select YES! for Your HVAC Needs
Your HVAC is more than just a system that provides proper airflow and heating; it's a household necessity that keeps you comfortable and protects your health. With over 45 years of HVAC and plumbing services under our belt, the team at Yes! knows a thing or two about solving indoor comfort problems, especially in the Las Vegas heat.
To deliver the best and most efficient services, our technicians undergo extensive background checks and drug testing and are fully licensed. This process ensures you'll get a reputable technician who can make the best decisions for your family's comfort.  
Finally, we put our customers first by providing:
Refunds for wrongdoings on our part
Emergency overnight services at no extra charge
A one-year workmanship warranty
Don't settle for just any HVAC service at your Nevada home. Call Yes! at 844-216-9300 for the best HVAC installation, maintenance, and repair services. You can also contact us or schedule an appointment online.