Generator Installation in Las Vegas, Nevada and Salt Lake City, Utah
---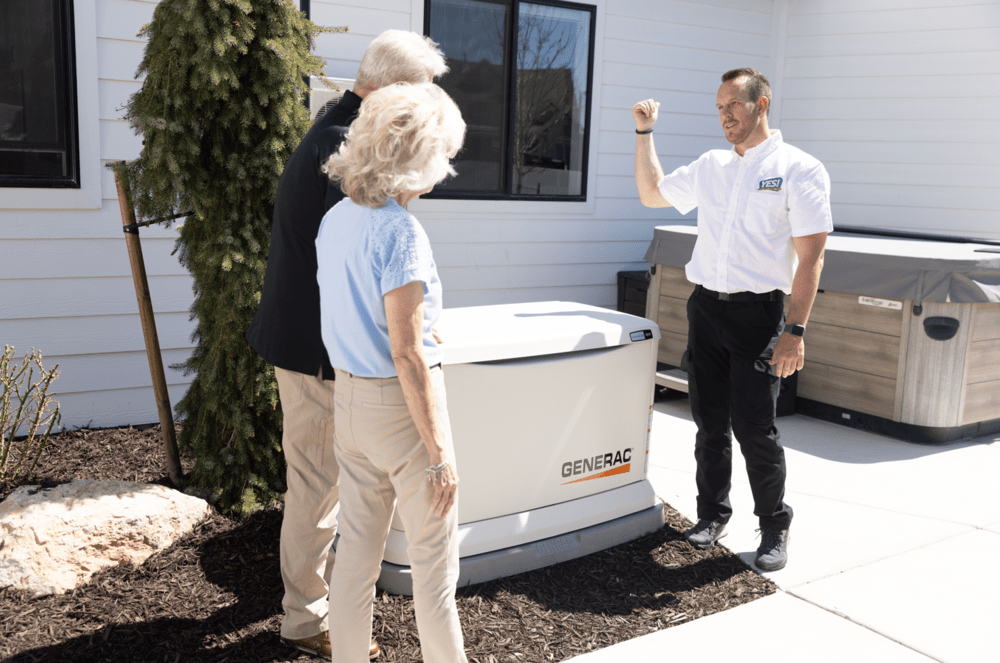 No one likes to be in the dark. In today's complex and often frightening world, we offer peace of mind. Completely automatic emergency home standby generators are available with a state-of-the-art automatic transfer switch as well as a maintenance package. Or you can choose from a variety of packages that we offer. Either way, call us and let us show you how we can help you.
Features include:
Automatic transfer switch
Automatic safety shutdowns
Automatic exerciser
Main line circuit breaker
Hour meter
4 year warranty
Maintenance packages
A generator is a key component to emergency readiness in Utah and Nevada. Without electricity, how else are you going to keep your essential appliances, like refrigerators, medical equipment, and water heaters running during an emergency?
Remove the uncertainty and risk of power outages with a standby home generator. Wherever you are, it takes over when the power goes out, giving you the peace of mind to worry about your loved ones in an emergency.
The automatic generator system operates on natural gas or propane, and sits just outside your house. Shortly after losing electricity, the generator springs into action, feeding vital power to your home.
We're prepared to create a unique automatic generator solution for you. Each home or business has different needs, and so deserves attention and careful design. We take the time to create the perfect automatic generator set up for you by considering the needs of your building and creating a system to meet them.
We start by assessing your plans and energy consumption, as well as factoring in the size of your home and the planned location of the generator. We pour the concrete pad, should it be needed, and purchase all the equipment necessary for generator installation. By the time we're done, your household is fully prepared for automatic generator power in an emergency situation.
Your Las Vegas, Nevada & Salt Lake City, Utah Generator Expert
This individual care, coupled with professional service makes us the logical choice for generator installation in Nevada and Utah. In addition to a history of excellence, we promise:
Professional and friendly service, including a spotless work site on completion
The most competent technicians in  Nevada and Utah generator installation market
Authorized dealership with a specialty in turn-key generator installations
Continuing customer service. After installation, if you have questions regarding your generator, contact us.
100% guarantee. We stand behind the quality of our technicians and our installations.
The Yes! team has the experience and the skills to provide you with the best automatic generator installation in Nevada and Utah. We cover jobs from office buildings to the smallest residence. Expect nothing less than the best customer support, service, technicians, and generator installation from us. We're prepared to get you started on the road to emergency readiness today.
Generator Installation FAQs
How long does it take to install a generator?
It can take about two to three weeks for a generator to be completely installed. This includes pulling a permit and performing a meter upgrade.
Do I need a standby generator?
Generators are generally a good idea for those who get frequent power outages. When the severe heat causes blackouts, a generator can keep you cool. If a disaster strikes you can stay connected to your loved ones
Various permits must be collected before the installation of a generator. Yes! can help you with the permit gathering process.
Generator Installation Cost
How much does a generator installation cost? This will greatly depend on the set up of your house and the resources available near where you want to install the generator. Angie's List ran a survey and did some research to find out this exact thing. Many homeowners reported paying between $1400 and $7500 to install a generator at there home. According to them, a home generator installation can cost as little as $400 and as much as $9500, while the average cost they saw was around $4500.
In order to get a more accurate quote for what it would cost you to install a generator in your home, please reach out! We will be happy to give you a quote for our services.