Water Heater Repair in Las Vegas, Nevada and Salt Lake City, Utah
---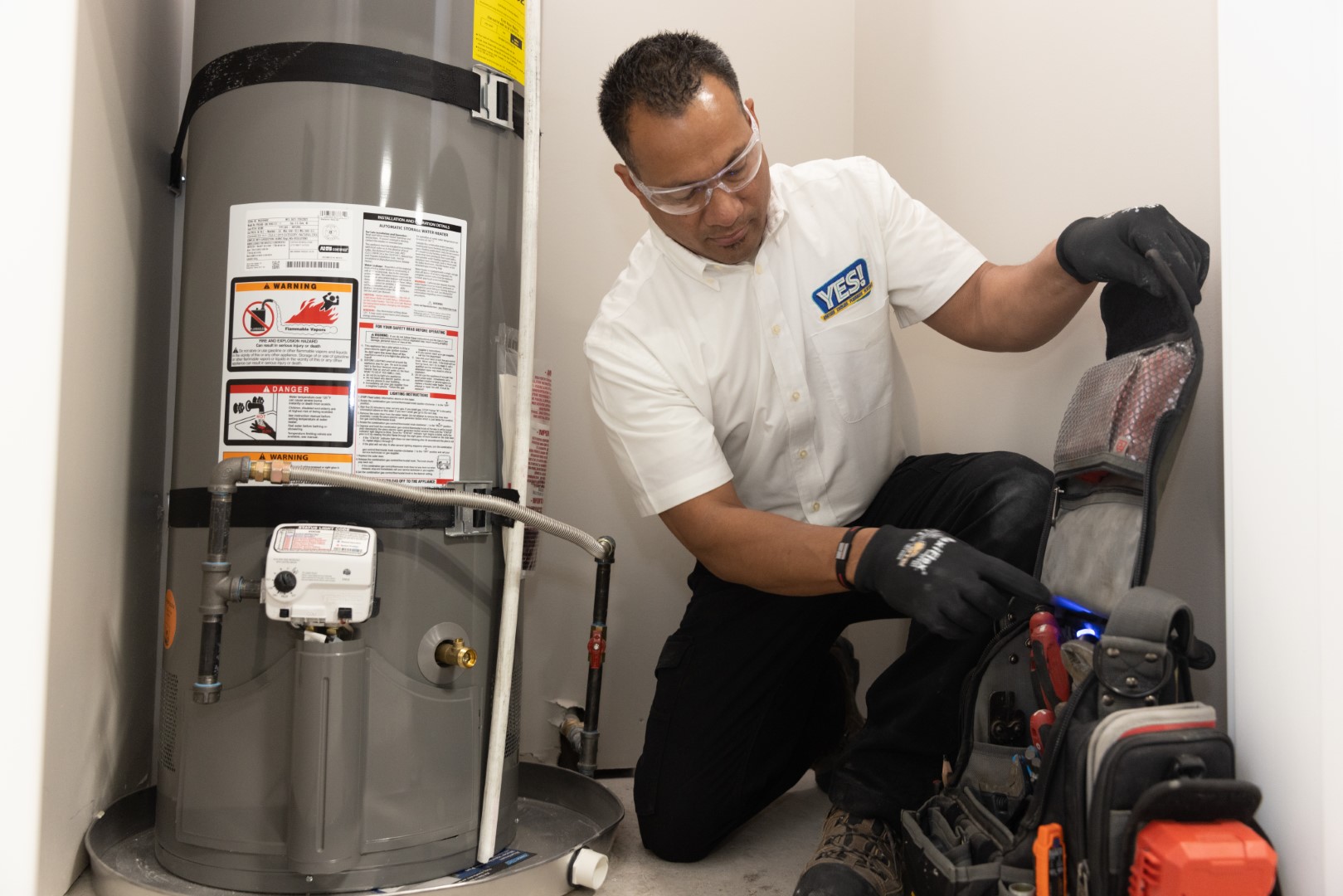 You can temporarily live without some household systems, but your water heater is not one of them. When your water heater stops working, it means no more clothes washing, no more dishwasher cycles, and no more hot showers. That's why you need to contact a plumbing service company you can trust to resolve this issue.
At Yes! we offer a comprehensive range of water heater repair, maintenance, diagnosis, and installation services to get your home back to normal. Homeowners throughout Nevada and Utah trust our plumbers to provide expert service every day.
We're dedicated to servicing your home quickly, efficiently, and correctly. Plus, we'll always take the time to explain the problem and recommend the most economical solution.
Hot Water When You Need It
Our licensed and insured plumbers are well-qualified to take on any Las Vegas or Salt Lake City water heater repair issue. We help you with:
Water Heater Maintenance
Routine maintenance services keep your unit in the best possible condition and help you avoid unnecessary water heater repair bills. In addition, these maintenance services extend the life of your water heater and ensure that it's working at maximum efficiency. Our plumbers provide routine inspections, flushes, and part replacements to keep your hot water flowing all year long.
Water Heater Repairs
If your water isn't getting hot, that's a clear sign of a water heater problem. Other red flags include knocking sounds, standing water under your unit, and inconsistent water temperatures. We've diagnosed and solved countless Salt Lake City water heater problems. So our plumbers have the experience to identify the issue quickly, and they'll provide you with an upfront quote for the repair services.
Water Heater Replacement
If your water heater is old and frequently requires repair, then it may need to be replaced. The general rule of thumb is that you should buy a new water heater if the cost of repairing your aging unit is more than half the replacement price. We help you choose a new model that's the right fit for your home and budget, and we'll install the water heater for you
Hot Water When You Need It
If you're looking for a replacement, you may have some questions about the difference between tank and tankless water heater systems. We're familiar with and qualified to service every type of water heater in Utah and Nevada. Additionally, we offer our full range of water heater repair services for tank and tankless systems. So you can rest assured that we'll help you find, install, and maintain whichever type you choose.
You'll have to analyze several factors when deciding whether to buy a traditional gas or electric tank water heater or an energy-saving tankless model. The best unit for your home depends on:
The number of people living in your home
Upfront and annual operating costs
The energy efficiency of the various models available
Length of the warranty
Fuel type, availability, and its cost
Maintenance and repair information
Tank and tankless water heaters each have their advantages. So, we'll be happy to assist you and answer any questions you have during this process. Call 844-216-9300 now to learn more about your options. 
Water Heater Repair: Frequently Asked Questions
What are the benefits of tankless water heaters?
There are lots of benefits associated with tankless water heaters, including:
Instant access to all the hot water you need
They take up less space
Increased energy efficiency
Longer lifespan
Reduced long-term operating costs
Schedule an evaltuation with our water heater specialists to see if a tankless water heater might be the best fit for your home and needs.
When should I replace my water heater?
As a general rule, we recommend upgrading to a new tank water heater every 8-12 years. Meanwhile, you should replace tankless systems every 20 years. However, if you notice strange noises or smells coming from your water heater or your energy bills are increasing with the same usage, you may need a replacement before then.
We'll happily check your system over and tell you whether a simple water heater repair is required or if a replacement makes more economic sense.
What maintenance is required for my water heater?
If you have a tankless water heater, it needs to be descaled annually to keep it working efficiently and extend its life.
Meanwhile, traditional tank water heaters should be flushed every year. This process removes sediment and debris from the tank, and it helps ensure that it's operating safely and efficiently.
Will a tankless water heater reduce my energy costs?
Yes. The U.S. Department of Energy estimates that gas-fired and electric water tanks save an average of $108 and $44 per year, respectively, compared to their traditional tank counterparts.