Air Conditioning Service in Las Vegas, NV and Salt Lake City, UT
---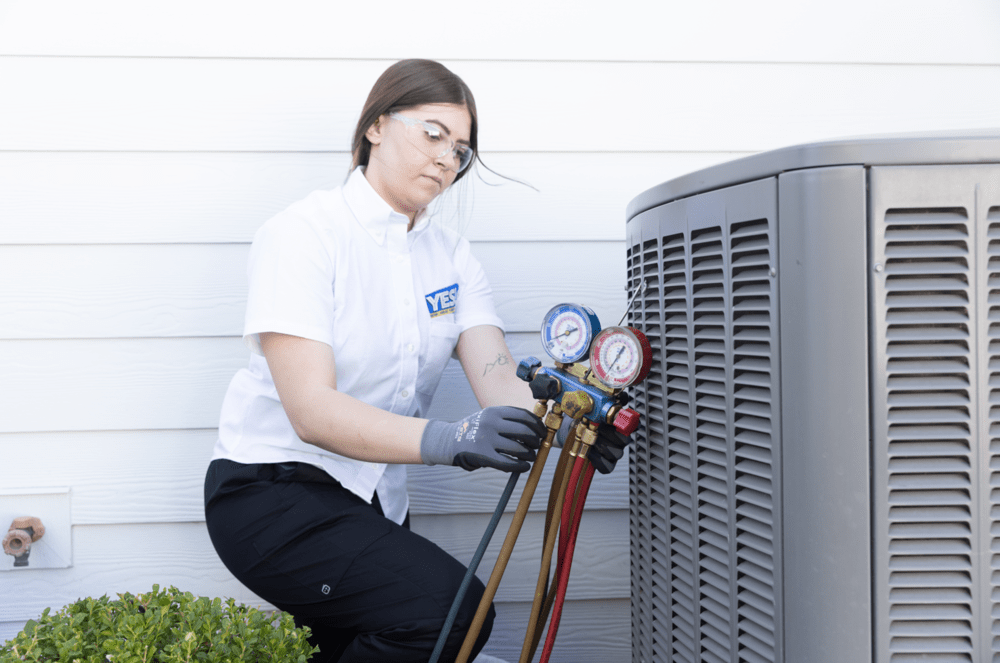 One method of staying cool during a hot Utah or Nevada summer is to take frequent dips in a refreshingly chilly pool. Ahhhh. But what if you don't have easy pool access? How do you stay cool? Most likely your cooling relief comes in the form of your air conditioning system. Are we right? If your sweltering summers are reduced to solely relying on your cooling unit to stay refreshed, then you need to be absolutely certain your system is in tip-top shape. Fortunately, when you need premier air conditioning service, Yes! is the only air conditioning company you need. And, luckily, we're just a phone call away!
Our company is part of the RMGA and has a team of NATE-certified technicians that are well-versed in virtually any cooling need you may have. We always strive to offer the best AC services that are affordably priced. Our technicians have more than 40 years of combined experience. We back our work with a 10-year warranty on parts and guarantees on labor, with optional warranty upgrades. If you need help with the cooling of your home, there's no better team to trust than Yes!
Expert Air Conditioning Services
Feeling hot and sticky? Don't sit at home and sweat the summer away. If you're noticing signs of wear and tear on your central air or other cooling system, it is probably time for a replacement model. But don't sweat it. Yes! has the most reliable cooling installation team in Nevada and Utah, and will help you stay totally chill all summer long.
Summer should be about having fun in the sun—not worrying about indoor comfort issues and ways to keep your favorite space cool. When cooling worries come knocking on your door, don't hesitate to give us a ring for central air and other cooling repair service. We've got the latest technology and solutions to shelve those anxieties and put that cool back right where you need it— inside your home.
At Yes! we take pride in our professionalism. We go above and beyond those other air conditioning companies to perform excellent customer service all year long. When your cooling system requires a tune-up, there is no better team than Yes! Our maintenance promises include:
100% satisfaction money-back guarantee
Lifetime workmanship guarantee
Lemon-free replacement guarantee
Rebate guarantee
Labor warranty
At Yes! We understand that when your AC unit goes down, prompt service is necessary. No matter what time of day you need assistance, you can depend on Yes! for prompt emergency air conditioning services.
Get First-Rate Cooling Services: Call Us Today!
Summer is no time to sit around and sweat! When your central air needs some TLC, call the absolute best! Contact us today or call us at 844-216-9300 for all of your air conditioning needs.
Only the Best for Our Customers
In our commitment to serve as Nevada & Utah's Best Service Experience, Yes! employs the best air conditioning technicians who are fully trained and certified.
Service Team Highlights
Knowledgeable
Background checks and drug tests.
Respectful and professional
We have the experience and expertise to get the job done fast, and done right the first time. Our equipment solutions include environmentally friendly options, with a highly trained crew that specializes in home energy efficiency and are BPI Certified.
We also offer a comprehensive energy audit and can determine where your house is losing energy, making you and your pocketbook a lot more comfortable.
Frequently Asked Questions
What size air conditioner do I need?
The size and style of your house will determine what size furnace you need. We do a complete engineering analysis of your home to determine the appropriate size. The duct work in your home will also have a bearing on sizing.
How does central air conditioning work?
The air conditioner in a central heating and cooling system provides cool air through duct work inside your home, by providing a process that draws out the warm air inside, removing its heat, from that point, the condenser or outdoor unit then turns the refrigerant vapor back into a liquid, removing any heat.
How long will a new AC system last?
Like an automobile, the better it is maintained the longer it will perform. The filter should be changed monthly and the unit should be serviced annually. Even a well maintained unit will start to lose efficiency at 10 – 12 years. Not to mention new technology that an old system will not have.
Can I improve the air quality in my home?
Absolutely. In some cases the indoor air quality of a home is worse than the outdoor air quality. We offer several options of high tech filters that can remove the tiniest particles and reduce allergies that cause several of the breathing issues that people suffer from.
How often should my AC system be checked or receive maintenance?
The manufacturer recommends an annual inspection and tune-up.
How much electricity does an air conditioner use?
The average Central AC unit uses around 3,500 watts of electricity or 12,000 BTUs every hour.
When should I replace my ac system?
The shelf life for the average AC system is around 12 years. Sooner if it wasn't installed to manufacturer specifications and longer if it is serviced and maintained regularly. A certified service technician will have the best idea as to when an air conditioning system should be replaced.