Furnace installation in Las Vegas, Nevada & Salt Lake City, Utah
---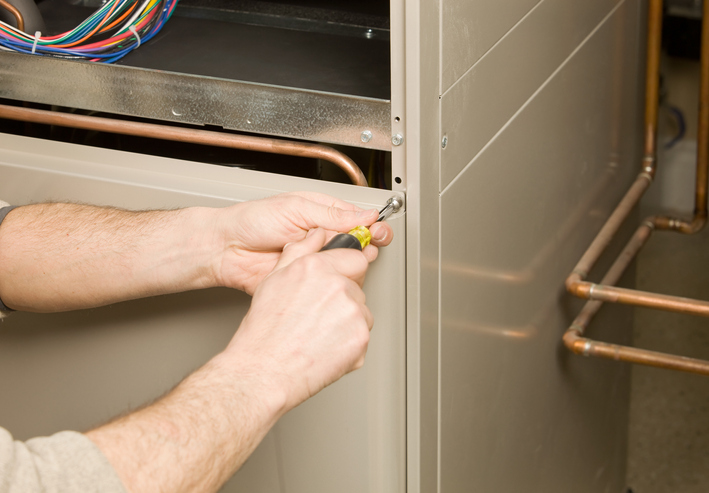 Choose a High-Efficiency Replacement Furnace
The best part about all the chilly outdoor fun of winter is the feeling you get afterward as you retreat back to your warm home. We know the routine—you toss those snow boots on the floor, shrug into your fleece pants and softest flannel, and head for your favorite recliner.
Perhaps you even snuggle under a favorite blanket, grab a drink, and open a book. Sounds perfect, right?
Well, it's only perfect if your furnace is providing you proper indoor warmth! How do you know if your heating system is still working to the best of its ability? Let us help.
Is It Time for a Replacement Furnace?
When it comes to heating across North America, the majority of homes rely on the furnace as the main heating source. This method of central heating works by pushing warm air through ducts and releasing warm air into the various rooms throughout your home. It is an efficient, budget-friendly option and certainly one of the most popular ways to heat homes in today's world. Furnaces can be run by electricity, natural gas or oil. In both Utah and Nevada, there are a wide variety of furnace types. Yes! has experience working with and repairing a wide range of furnace types. 
Are you experiencing heating issues but aren't quite sure if you need a replacement furnace? Here are seven sure signs it's time to update your current furnace with a new, high-efficiency one:
Your energy bills have skyrocketed.
Your home's humidity is off and you're experiencing super dry air.
Your system is over 15 years old.
You've noticed an increase in dirt, soot or rust particles.
Rattles and hums are escaping from the furnace.
You've been calling more often for repairs.
There is inconsistent heating throughout your home.
If you've experienced two to three of these signs, it's a good bet there's a need for a replacement furnace in your future. We know purchasing a new furnace is an investment. Additionally, you can count on our team to exude professionalism at all times. We will keep a tidy working site whenever we come to your home. You don't have to worry about cleaning up after us! Our entire team is ready to exceed your expectations through good manners and quality workmanship.
A Flawless Installation Process
We don't just install furnaces at Yes!—we install trust and satisfaction with our loyal customers, too. From the minute our professionals enter your home to the minute your new furnace is flawlessly installed, we guarantee you'll receive nothing but excellent service and pure professionalism. In fact, we are so certain you will love our workmanship, we guarantee it for the life of your home.
While your furnace is protected by a manufacturer's warranty and our labor warranty, our absolute workmanship guarantee protects the other aspects of our installation, such as ducts, flue vents, refrigeration lines, etc.
We Give Warm Service
Are you in the market for a new furnace replacement or installation in Las Vegas, Nevada or Salt Lake City, Utah? Or maybe you're simply considering upgrading your current heating system to a new high-efficiency furnace? If so, you'll probably have questions.
Call us at 844-216-9300 to get help navigating your research. We are your home comfort experts for furnace replacement installation. We're eager to provide you with easy whole-home solutions for all of your heating needs. We even offer coupons and special offers that could help you save big every year. Contact us today!