Portable Generator vs Standby Generator
April 26, 2023
---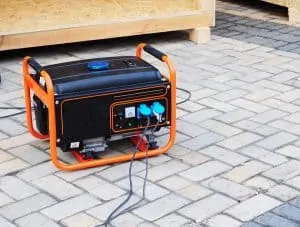 Getting left in the dark can be a scary thought. It's important to always have a backup plan in an emergency. When a storm or disaster strikes you need to be ready at a moment's notice. A generator can help keep you connected when the outside world is falling down.
Many homeowners don't think about it – but what would you do in an emergency situation with no power? How would you connect to the outside world? You may have an emergency kit set up with food and flashlights but how do you keep up with breaking news or emergency alerts? Homeowners need a way to get the power running again.
That's where generators come in.
When the power goes out, a generator can bring back a sense of normalcy. Especially helpful after a natural disaster, a back up generator can be lifesaving by keeping homeowners connected to the outside world. A back up generator can help offer peace of mind when an unexpected blackout or storm happens. There are various types of generators so it can be hard to choose. It all depends on what homeowners are looking to accomplish. Below is a comparison between standby generators and portable generators to give homeowners a better understanding of what they need for their home.
Portable Generators
There are many benefits to owner a portable generator. These generators are the best size for offer a power source around the home, in the garden, while camping, etc. The best feature of the portable generator is, as the name suggests, it's portability.
When small appliances are needing power, a portable generator is the way to go, but when a power outage occurs additional power may be necessary. There may not be enough outlets in the generator to allow homeowners to plug in all the major appliances during a blackout. Residents might have to choose whether to power the TV to get the news or the refrigerator to keep their food fresh.
The price is right though. Many portable generators begin around the $200 range. For peace of mind during a disaster, this is a small price to pay. One thing to keep in mind is the price of gas. Most portable generator run on fuel so this is an added cost when it comes to powering the generator.
Since the portable generator runs on fuel, this means it can't stay running at all times. Homeowners must run out to get the gas and then fill it up. When a storm hits this might not be feasible. Always remember to keep fresh gas on hand to be most prepared. Homeowners will need at least 34 gallons to run a portable generator for about two days.
This also means that residents will have to deal with the fumes, heat, and noise that comes with running the fuel powered generator. These generators need to be properly ventilated or else they can cause fires or carbon monoxide poisoning.
Portable generators are very easy to get running. A quick trip to Lowes or Home Depot is all it takes. When an emergency happens, just fill it with gas, pull the cord, and it's up and running.
Once a generator has been purchased and run a few times, maintenance is important. If left standing still for too long, portable generators and freeze up – just like a lawnmower. A start every couple of months will help stop the generator from sticking when needed in an emergency.
Residents must make sure they are home when an emergency happens in order to keep everything on the grid. Portable generators must be starting manually, they will not turn on by themselves.
Standby Generators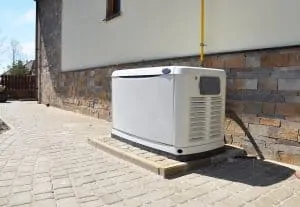 Compared to portable generators, standby generators are more of a long term solution to power outages. How standby generators works is when the power goes out in a resident's home, these generators automatically kick in and provide an almost seamless supply of power until electricity is restored.
The peace of mind found with standby generators is greater than that of a portable generator in a major way. Financial losses, spoiled food, and burst pipes can be prevented. When homeowners are looking to have a somewhat hands off approach to protecting their assets during a storm, a standby generator is the way to go.
One of the biggest differences between a portable generator and a standby generator is the fact that it cannot be moved. Where portable generators can be moved to where the power is needed, a standby generator is too heavy to be moved.
With that being said, a standby generator can power a large range of items – including a whole house. Residents can watch TV, power the refrigerator, charge cellphones, use computers, pretty much do anything that can be done when the power is on.
With all the features of a standby generator it makes sense that it costs significantly more than a portable generator. Standby generators start out at $2000 and go up. These generators require a lot more when it comes to installation. Where homeowners can just pull the portable generator out of a power, gas it, and power it up, standby generators require professional installation.
Standby generators also run on various types of fuel but have a larger tank so the run time is much longer. The way a standby generator runs also differs from a portable generator so there are no fumes and very little noise.
Maintaing a standby generator is much like maintaining an HVAC system. Where homeowners can simply turn on a portable generator every few months to keep it running, a standby generator needed professional maintenenace to keep it running and in good shape.
Even though a standby generator costs more money to run and takes more time to maintained, the benefits can definitely be worth it. If a disaster strikes while homeowners are away, the standby generator automatically kicks in, powering the home like nothing happened.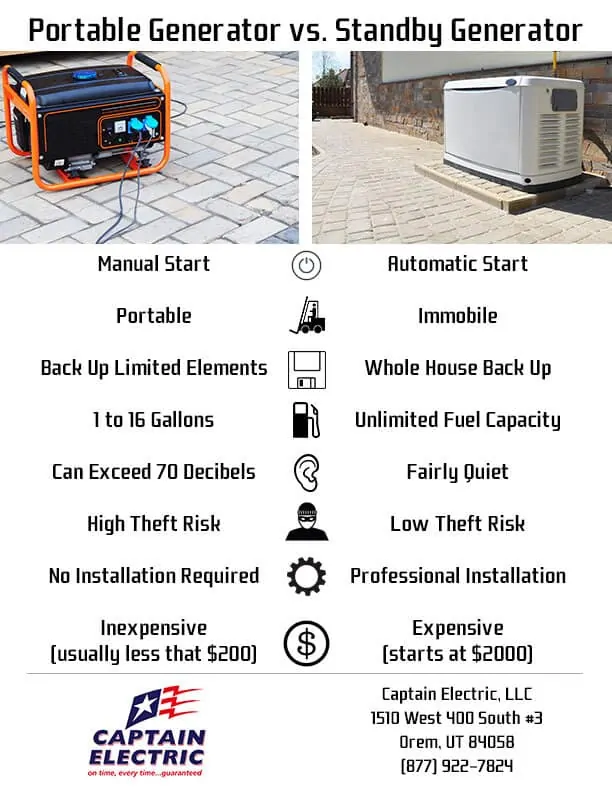 Homeowners must consider what is the best option for their home and their needs. If a simple, quick, and somewhat cheap method is required or wanted, a portable generator will be sufficient. When total power and control is necessary, residents will find comfort in a standby generator.
Residents of the Wasatch Front area can contact Yes! of Utah for more information on generators. The technicians are knowledgeable and friendly and can give expert advice on the different types of generators and the installation process. If peace of mind during and emergency is what Salt Lake City homeowners are looking for, look no further. Call Yes! today!
Last Updated: September 18, 2023