Nest Protect Smoke Alarm in Las Vegas, NV & Salt Lake City, UT
---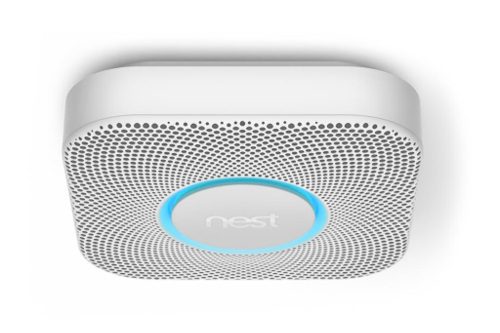 Smart Carbon Monoxide Alarm and Smoke Detector
Be informed.
Not just alarmed.
Nest Protect smart smoke alarms is the smoke detectors other alarms look up to. It can alert your phone to not only what the problem is, but where it's coming from. No more panic when your smoke alarm goes off, no more guessing what the cause is.
GET IT NOW
Find the issue
Nest Protect doesn't just detect the problem, but tells you where it is so you can fix what's wrong.
Get notified
Nest Protect pushes alerts to your phone using the Nest App if it detects a problem, even when you're not at home.
Sleep easy
Nightly Promise: a green glow when you turn the lights out at night that lets you know it's working.
CO detection
Nest Protect isn't just a smoke alarm; it also detects carbon monoxide, which is invisible.
The gold standard for smoke alarm safety
Thinks, speaks, and alerts your phone.
Is it just a bagel burning in the toaster, or is there a more serious issue? With a friendly human voice, Nest Protect can warn you about a problem before it becomes a bigger problem. It can push alarms to your phone, and once you've located the issue, you can even silence it from your phone. Nest Protect tells you over the app when its battery is low - no more annoying chirps. In addition to using the app to test or hush the alarm, it can even perform its own safety checks automatically and give you a full report.
This innovative smart carbon monoxide detector and smoke alarm performs a self-check every 200 seconds. It verifies that it is connected to power, has a Wi-Fi connection, and that its smoke and carbon monoxide sensors are operational. Every month, it runs a sound check that tests its speaker, horn and ring light. This means you can be confident that your Nest smart CO detector and smoke alarm will be ready to alert you if there's an emergency.
As part of the Google Nest ecosystem of products, you can connect this Wi-Fi carbon monoxide detector and smoke alarm to your phone or another device to review the latest information or run a safety checkup. Plus, when you purchase one of these devices through Yes!, you benefit from our team's expertise. You can be certain that your new unit will be installed in the most effective manner possible.
Nest Protect FAQs
How does Nest Protect work?
This smart smoke detector utilizes an advanced split-spectrum sensor that offers better performance than traditional photoelectric sensors. It combines an infrared sensor with a second blue LED to identify a wider range of smoke particles. This enables it to spot smoldering fires as well as fast-burning blazes with speed and accuracy. Its carbon monoxide detection sensor should last for up to 10 years before it requires replacement.
What are the advantages of the Nest Protect smoke alarm vs. a traditional model?
Having a Wi-Fi CO detector and smoke smoke alarms means you don't necessarily have to be at home to experience the protection it offers. Unlike most smoke alarms, the Nest Protect can send alerts to your smartphone via the Nest App or other connected device so you can respond to it no matter where you are. This means you may be able to have emergency responders at your home before it experiences catastrophic damages due to a fire. It also gives you the opportunity to test the alarm without having to climb onto a ladder.
How many CO detectors should you have in your home, and where?
The number of these devices you will need depends on the size and layout of your house. In general, it is recommended that you have one on each floor of your home, and to position them as close to any bedrooms as you can. You should also research the laws where you live, as specific locations for alarms may be mandated by state or municipal statutes.