AC Installation in Las Vegas, Nevada & Salt Lake City, Utah
---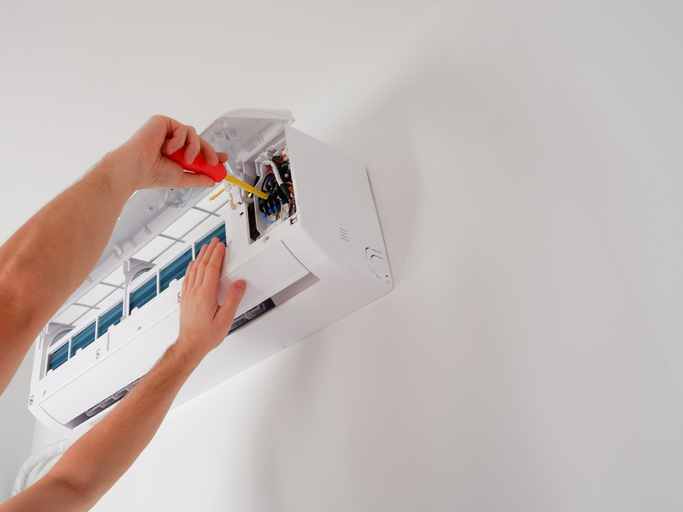 If your air conditioning unit is no longer keeping it cool during the hot Nevada or Utah summer, it may be time to consider installing a new ac unit. Purchasing a new air conditioner is a worthwhile investment to keep your home comfortable. With advances in HVAC technology, many of the newer units offer extra benefits. Our team at Yes! can provide safe installation to replace your AC unit. We offer a 100% satisfaction guarantee and a one-year warranty on our workmanship — providing you with exceptional service is our priority.
Signs You May Need an Air Conditioner Replacement
It can be difficult to know whether your AC unit simply needs another repair or if the time has come that you should replace it. Although it can seem like a big investment, the cost of a new AC unit can often be cheaper than paying for continuous repairs on an older unit. Some signs that you might need a new AC unit include:
Your air conditioner is old: Properly installed and well-maintained air conditioners can last up to 15 years, but if your air conditioner needs major repairs and is more than 10 years old, you might want to go ahead and replace it.
Your home isn't comfortable: If your air conditioner isn't keeping your home cool and comfortable, what's the point in running it? You may need a newer AC unit or a system that is better sized to your home.
Your AC needs repairs frequently: If your AC unit is racking up repair costs and breakdowns, it might be time to get a new unit. It'll save you both time and money to invest in the newer unit and prevent having to pay for costly repairs over and over again.
Your air conditioner uses too much energy: Many older AC units aren't very energy efficient compared to their newer counterparts, which means your energy bill is probably higher than it needs to be.
Getting a new AC Unit Has Many Benefits, Including:
New units tend to be more energy efficient. This is due to improved technology and AC efficiency in newer models
New units have a reduced chance of break downs giving you peace of mind during the times when you need it most.
New units provide increased comfort.
New units can lower your energy costs. Getting a new unit will help you save money in operating costs, cutting down on your spending in the long-term.
If you're uncertain whether you're in need of a new air conditioning installation, our experts at Yes! Air Conditioning & Plumbing can talk you through the pros and cons.
The Value of Air Conditioner Installation in Las Vegas, Nevada & Salt Lake City, Utah
In the desert climate of Utah and Nevada, having a working AC unit is an absolute must. This part of the country brings a new meaning to the word heat, with hot and dry weather during the summer. 
Likewise, it's not uncommon to go long stretches without rain. Especially here, residents rely on air conditioning to survive the climate. When you step into your home, you want to rest easy knowing that you'll be cooled down and comfortable. This is what we offer with air conditioner replacement to ensure you have the best unit for keeping your home cool.
When you're looking for reliable AC installation in Nevada or Utah, our team is at your service. We know the ins and outs of AC and why it's so powerful. The magic comes from the refrigerant, a substance that transforms easily between gas and liquid. While it absorbs the heat as a liquid, it releases heat by turning into a gas. Then, as it cools, it transforms back to liquid and begins the cycle again.
A properly functioning AC takes the heat in the air, lowers its temperature and sends it back as cooler, more comfortable air. Let us set you up with the ductless air conditioner installation you need to feel happier at home!
Nevada and Utah Premier AC Installation Technicians
At Yes! we have more than 45 years of experience helping you deal with the extreme weather changes. In addition to high quality AC installation, we also provide full service and repair for central air conditioning and AC units so you don't end up stuck in the heat. All of our skilled technicians receive regular training and have access to the highest quality equipment to ensure your repair is completed to the latest standards. Providing high quality service to our customers is our number one priority, which is why we provide a one-year labor warranty on all the work we perform.
Call us today at 844-216-9300  for a no-cost estimate for a new HVAC system.
Frequently Asked Questions
What would I pay for a new AC in Utah or Nevada?
There are a lot of factors that can change the cost of a new air conditioning system. It is also important to consider the cost over time of keeping an inefficient cooling system in your home.
Some new installations require new duct work, moving gas lines or even moving the condenser or furnace equipment to a new location due to improper placement from the previous installation.
Yes! is dedicated to finding the right options that fit your home and your needs. We offer the best AC installation services and according to code. We come across so many cooling system installations that were done incorrectly and have caused the life of the equipment to be drastically reduced.
Additionally, it might make sense to upgrade the home to a central air system that will provide heating and cooling that will save you money in the long run and provide a higher level of comfort at home.
We take pride in our ability to design the right cooling system that fits your home and your needs.
What size air conditioner do I need?
The size and style of your house will determine what size air conditioning system you need. We do a complete engineering analysis of your home to determine the appropriate size. The duct work in your home will also have a bearing on sizing.
How does central air conditioning work?
The air conditioner in a central heating and cooling system provides cool air through duct work inside your home, by providing a process that draws out the warm air inside, removing its heat, from that point, the condenser or outdoor unit then turns the refrigerant vapor back into a liquid, removing any heat.
How long will a new AC system last?
Like an automobile, the better it is maintained the longer it will perform. The filter should be changed monthly and the unit should be serviced annually. Even a well maintained unit will start to lose efficiency at 10 – 12 years. Not to mention new technology that an old system will not have.
Can I improve the air quality in my home?
Absolutely. In some cases the indoor air quality of a home is worse than the outdoor air quality. We offer several options of high tech filters that can remove the tiniest particles and reduce allergies that cause several of the breathing issues that people suffer from.
How often should my AC system be checked or receive maintenance?
The manufacturer recommends an annual inspection and tune-up. Keeping up on this will help ensure your warranty from the manufacturer.
How much electricity does an air conditioner use?
The average Central AC unit uses around 3,500 watts of electricity or 12,000 BTUs every hour.
When should I replace my ac system?
The shelf life for the average AC system is around 12 years. Sooner if it wasn't installed to manufacturer specifications and longer if it is serviced and maintained regularly. A certified service technician will have the best idea as to when an air conditioning system should be replaced.