Drain Repair Services in Las Vegas, NV & Salt Lake City, UT
---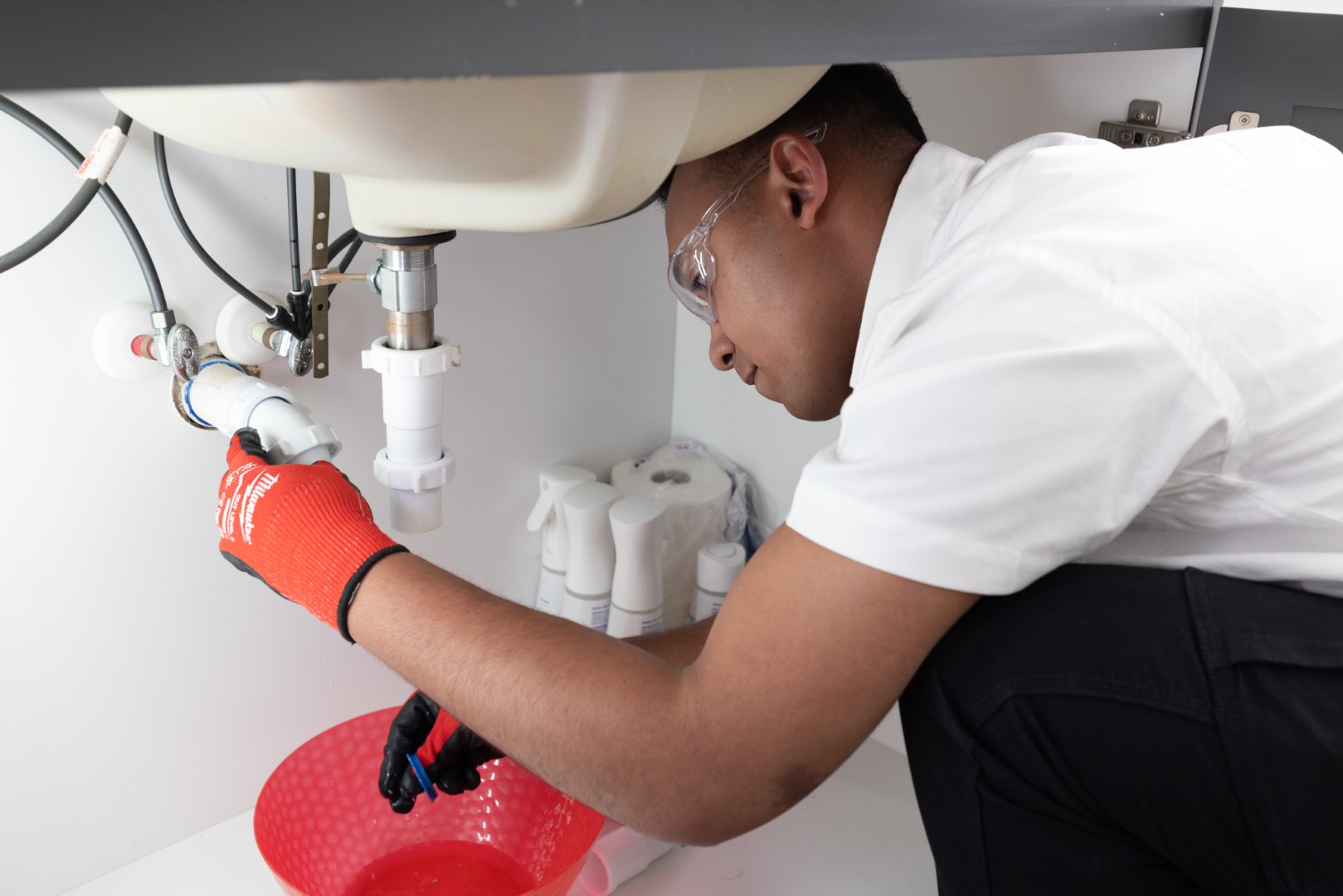 Is there a pesky clog blocking your drain? Don't let it sit for days—schedule drain cleaning services! Drain cleaning services are the best way to make sure the clog is removed entirely and won't make it easier for new clogs to take hold.
Dependable running water in your home is a modern convenience. In fact, many of us could not imagine living without it. In order to deliver that clean water to your home, and carry away the waste water, your drain and sewer system must be in good working condition. If you suspect something may be wrong with your system, call Yes! today. We are experts at drain cleaning in Las Vegas and Salt Lake City, sewer installation, maintenance and repairs.
Finding Blockages with a Pipeline Camera Inspection
Drain clogs can happen anywhere in your home where water needs to drain. Blocked drains can occur in showers, sinks, and even the main sewer line at your home or business. To locate a drain or sewer line blockage, the professional plumbers at Yes! Air Conditioning and Plumbing can use a special drain camera to inspect your pipelines. These high-tech cameras provide real-time video footage allowing us to quickly identify and fix the of the issue.
Common Signs of a Blocked Drain
Clogs are commonly caused by things such as broken pipes, debris, and roots in the sewer line. This can mean tree roots are growing into the pipe or hygiene products like toilet paper are obstructing your pipes. How are homeowners to know if one of these problems is taking root? The experts at Yes! Air Conditioning and Plumbing recommend that homeowners stay alert for a few warning signs of clogged drains. These signs are important. If you can identify one early, you can avoid more severe plumbing problems in the future.
Some common signs of clogged drains include:
Your toilet makes a gurgling noise whenever you use water elsewhere in your home.
When you flush your toilet, water comes out of the shower drain.
Water comes up through the bathtub when you use water elsewhere in your home.
Water levels in your toilet rise or lower from its average level.
At least one drain in your home is slower than usual.
Our Drain Services
Each individual is trained to utilize safe, effective, and advanced methods of inspecting, cleaning, and repairing drains. If you've never scheduled a professional drain service, here's what to expect during the process.
Drain Inspection
We always begin with a video inspection. One of our licensed plumbers maneuvers a specialized, miniature video camera through the drain or sewer pipe and watches the footage on a monitor. In this way, we're able to see the physical condition of the drainage system and make an accurate assessment of the work that needs to be done.
Our advanced plumbing cameras can travel through pipes ranging from two to 36 inches in diameter, allowing us to pinpoint the exact location of plumbing issues and recommend the most cost-effective solution. The inspection process can identify broken pipes, leaks, grease buildup, tree root damage, and clogs.
Our advanced plumbing inspection equipment and techniques allow us to:
Document pipe condition
Accurately visualize the underground drainage system
Identify defects causing sewage backups
Correctly diagnose plumbing problems
Recommend and perform the right drain service
Before beginning any cleaning or repairs, our licensed plumbers will provide a detailed quote showing the cost of parts, labor, and other charges. We will explain the process and ensure homeowners know what to expect before our plumbers get started.
Drain Cleaning
Our experienced plumbers will begin by preparing the worksite and take measures to protect the workspace and minimize any potential mess.
A few common drains we unclog and fix include:
Sink drains
Toilet drains
Garbage disposals
Kitchen and bathroom drains
Main drains
Basement drains
Laundry drains
Storm and outside drains
The two methods we use to clear a clogged drain include:
Drain snaking. This technique is used for minor or isolated clogs that haven't traveled too far down the drain. The plumbing snake is a long, flexible cable with an auger at the end that is used to dislodge clogs in the pipes.
Hydro jetting. Tough pipe obstructions typically require hydro jetting. This method utilizes a water jet equipped with a multi-directional nozzle to target hard-to-reach areas in the pipes. With water pressure reaching up to 4,000 PSI, the water jet can clear scale, grease, tree roots, and other debris. As a result, all obstructions are cleared away and the plumbing system is able to properly drain waste.
For Drain Cleaning, Call a Professional
When you have a clogged drain in your home's bathroom or kitchen, call a professional — don't reach for an abrasive chemical cleaner. While these solutions may break up the clog to get some water through, they won't take care of the entire blockage. Allowing part of the clog to remain in your drain makes it easier for a new clog to form. You must make sure the clog is cleared completely. Luckily, our professional plumbing team at Yes! Air Conditioning and Plumbing has the necessary training and equipment to make sure that the clog is totally resolved and that water is moving quickly and efficiently through your pipes. One such method our experienced technicians can use is hydro jetting drain cleaning, which shoots pressurized water into the clog, effectively breaking it up and cleaning out your pipes. While do-it-yourself methods can be tempting, a professional can get your drain cleaning done right without risking additional damage to your system.
YES! AIR CONDITIONING AND PLUMBING IS UTAH AND NEVADA'S #1 CHOICE
Regardless of the severity of your clogged drain, Yes! Air Conditioning and Plumbing can provide you with a fast, effective fix. Home methods just aren't as efficient as calling in a trusted professional for hydro jetting drain cleaning. The expert technicians at Yes! Air Conditioning and Plumbing will provide the plumbing services you need to get your pipes in working order while providing exceptional customer service. We know inviting strangers into your home can be difficult. That's why all of our employees are background checked and drug tested. You can have peace of mind when you allow the technicians from Yes! Air Conditioning and Plumbing into your home. We take the stress out of drain cleaning and boast a 100% satisfaction guarantee. Blocked drains don't fix themselves, so don't wait! Contact our professional plumbers in Las Vegas today to request a drain inspection.