HVAC Maintenance in Las Vegas, Nevada and Salt Lake City, Utah
---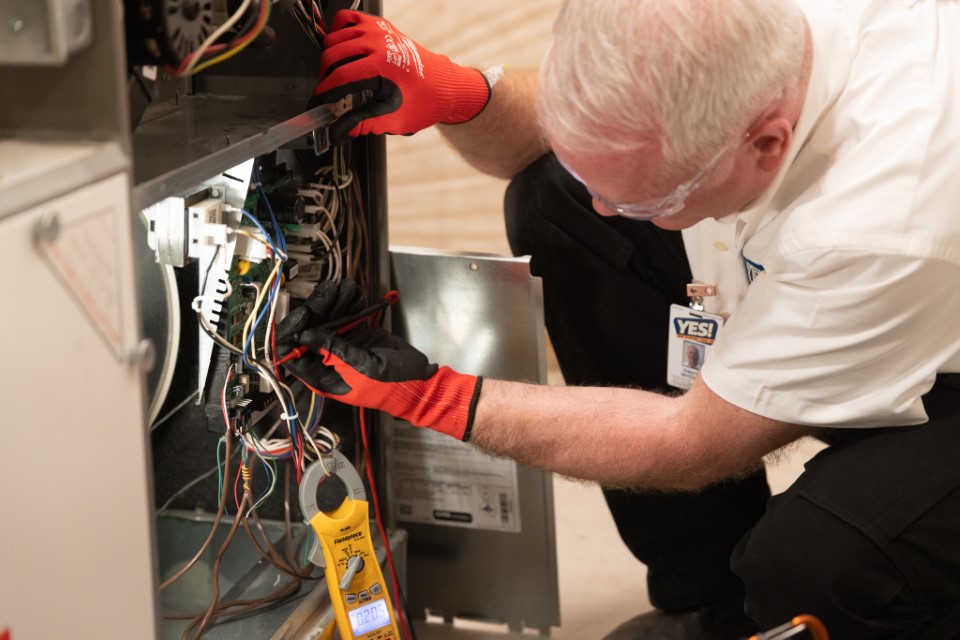 Your HVAC system is an integral part of your home, especially if you live in areas with extreme climate conditions like Utah or Nevada. Without proper maintenance, your system can struggle in the sweltering Las Vegas heat or frigid Salt Lake City cold.
You can beat extreme weather conditions with help from the qualified technicians at YES! Whether you need HVAC maintenance in Las Vegas or Salt Lake City, we have the experience and expertise to keep your unit in top shape.
Schedule HVAC Maintenance!
Read on to review the most common HVAC problems homeowners in Nevada and Utah face, as well as how regular HVAC maintenance can extend the lifespan of your system.
Common HVAC Problems in the Summer
In Las Vegas, summers can get scorching hot as temperatures rise to 105 degrees Fahrenheit or higher. Even if you live in Salt Lake City, summers can still be quite intensive since temperatures can also reach 100 degrees. These boiling temperatures can put a toll on your AC system and make summers unbearable.
Let's examine how these locations' extreme summers affect your residential HVAC system.
AC Strain
Your AC unit relies on heat exchangers to capture heat inside your home and transfer it to your condensing unit outside. When the temperatures rise outside, your system has to work harder to discharge the warm air, putting a strain on your unit.
The other concern with extreme heat is that your condenser coils will become dirty. Condenser coils release the absorbed heat. If they become dirty, your system won't be able to keep your home at a cool temperature.
The good news is that your AC system should work fine with scheduled maintenance services and keep you cool throughout the hot months.
Improper Airflow
As temperatures rise, you might notice a change in the air circulation of your AC equipment. During the summer, the air inside your unit can become blocked, forcing it to work harder to keep your interior setting at a cool temperature. If not properly managed, improper airflow will lead to discomfort in your home.
Poor airflow also causes the lubricating oil inside your compressor to break down over time, which can cause your compressor to malfunction. However, with regular check-ups, you can optimize your system's airflow and enjoy a break from the sun in your cooled home.
Refrigerant Leaks
It's not uncommon for homeowners to experience the dread of hot air circulation now and then during the summer. As your HVAC system ages, pinhole leaks develop in your unit's refrigerant lines, which causes your system to blow unwanted warm air when you least need it. Not only do leaks result in wasted energy, but they can also be detrimental to your health, especially in sweltering Las Vegas.
If you notice any type of leak, your safest bet is to call a certified technician.
There are a few ways to reduce the wear of your HVAC system, but remember that the equipment is still working hard and needs the proper care to maintain efficiency.
For HVAC maintenance in Nevada or Utah call YES! At 844-216-9300 to fix your leaks and get your system up and running. You can also take advantage of our pro service plan for free AC diagnostic services and priority services.
Schedule Summer HVAC Maintenance!
Common HVAC Problems in the Winter
Just because it's cold doesn't mean your HVAC system is immune to damage. This is the case if you live in Salt Lake City, where daily low temperatures drop as low as 27 degrees Fahrenheit. With this in mind, here are some common HVAC winter problems you should understand so you can take evasive action to keep yourself warm and cozy.
Malfunctioning Heat Pump
If you live in an area susceptible to high levels of ice and snow, your exterior heat pumps might be unable to defrost during the winter. The failure to defrost can be caused by many factors, including wiring issues and faulty temperature sensors in your unit.
Unless you have a backup heating system that can keep you warm when your pumps accumulate damage, you should call an HVAC professional who can assess your unit and identify the most likely cause.
Frozen Pipes
During the freezing winter months, your pipes will build up pressure, causing them to burst when you least expect them to. Watch for any indicators of frozen pipes, such as decreased water pressure and any odd or funky odors coming from your drains. If left untreated, you won't have any hot water circulating in your home.
Generally speaking, pipes will freeze after six to eight hours at 32 degrees Fahrenheit.
Outdoor Unit Damage
During long periods of intense snowfall, there's an increased risk of the snow damaging your HVAC system's fans and coils. Since Salt Lake City averages over 50 inches of snow during the winter, your HVAC system must be installed inches off the ground. This way, you can prevent snow from infiltrating your unit.
If that's not a viable solution, and you're still enduring chilly nights in the Salt Lake City area, you'll need alternative heating solutions. For HVAC maintenance in Utah services, call 844-216-9300 and speak with one of our experts.
Our HVAC Maintenance Services
For over 45 years, YES! has been committed to repairing both common and uncommon HVAC issues. Your family's comfort is our technicians' highest priority.
Air Conditioning Services
Hot summers can only be enjoyed when your AC system works optimally, which is why you need quality air conditioning services to keep your home cool and comfortable.
Here is a sample of the services we offer Nevada and Utah residents:
AC Repair: Our AC repair services include a check for blown fuses, dirty air filters, low refrigerant concerns, and anything that might be damaging your AC unit.
AC Replacement: If your unit is over 10 years old and you've experienced multiple malfunctions, you may need to upgrade your unit. With our AC replacement service, we can get you a quality replacement unit.
Emergency Services: Our emergency services run 7 days a week, so you can count on getting immediate help for urgent problems.
Heating Services
With our heating services, you are guaranteed quality repair and replacement services that keep your HVAC running as it should during long winter seasons. So if you need HVAC maintenance in Salt Lake City, let us be your first point of contact.
Here's what we can do:
Furnace Repair: Your furnace is what keeps the air circulating inside your home warm. If you notice any odd noises or an excessive amount of dry air, call us. As part of our furnace repair services, we'll get your system working as it should.
Furnace Replacement: Is your furnace over 20 years old and struggling to warm your home? If so, it's time for a replacement. Luckily, with our furnace replacement service, you can get a new, energy-efficient furnace that is sure to last.
Central Heating: Our central heating service includes inspection of your vents, filters, wiring, ductwork, and more. Once we're done, you'll notice a substantial improvement in warm air circulation.
Schedule HVAC Maintenance!
Why Choose YES! for Your Heating and Cooling Concerns
What makes YES! rise above other HVAC repair companies? Our customers remain at the forefront of our services. What does that mean? It means that no matter what you need, we promise to deliver exceptional services resulting in your satisfaction.
YES! Will Handle Seasonal HVAC Challenges
Seasonal disruptions can be a pain for your HVAC system, but that doesn't mean you're on your own. Fortunately, there's no HVAC challenge too big for YES! to handle. Our qualified experts are licensed and bring several decades of experience in cooling, heating, and plumbing services.
Our Incredible Guarantees
We have quality equipment, extensive knowledge, and industry-leading experience to ensure your cooling and heating systems keep you comfortable no matter the weather. Our guarantee offers include complete refunds and a labor warranty in case your equipment fails.
Deals and Financing Options
We also understand how financial challenges can get in the way, which is why we offer special deals for Utah and Nevada residents. If you need an electrical repair service or a new water heater, our discounts can keep you from drowning in financial debt. Check out our financing options so you can minimize repair expenses. Remember, our commitment is to you.
Our Customers Love Us
But don't take our word for it. Check one of our testimonials below to give a first-hand glimpse of our work.
"YES! speaks to my millennial soul. I love that I could text with a representative to talk about the issue I was having and that I could schedule it as well! The service was prompt and friendly. The technician was able to come out quickly and provide the service at a reasonable price. He was also friendly and courteous. I would definitely recommend using YES! Again!"
For HVAC maintenance in Las Vegas or Salt Lake City, contact us to get your needs squared away.
Schedule Your Service!